In our previous blogs, we roughly mentioned different ERP modules for personalizing comprehensive ERP software to address specific business needs.  At a high level, these ERP modules fall under the functional, technical, and application suite categories. Each of these modules and their sub-categories can be purchased as an add-on to the ERP system. The warehouse management module is one of the core functional ERP modules designed exclusively for manufacturing companies to facilitate accurate stock movement and real-time insights into warehouse inventory.
Typically, manufacturing companies choose between implementing an ERP system or warehouse management software depending on the warehouse volume and speed of inventory movement. However, it's worth noting that a warehouse management solution is not an alternative to ERP systems or vice versa. In this blog, we will dive into the distinctions between the two and explore the benefits of the warehouse management module in an industry-leading ERP system.
Defining ERP Systems and Warehouse Management Solutions
According to Gartner's definition, a warehouse management system is a software application that is a software application for managing and intelligently executing the operations of a warehouse or distribution center. These systems leverage mobile devices, bar code and radio frequency identification (RFID) scanning, advanced robotics, and augmented reality (AR) wearables for managing warehouse transactions with accuracy and in near real-time. On the other hand, ERP software is a complete business applications suite with a process and data model spanning end-to-end operations such as finance, manufacturing services, human resources, sales, distribution, and supply chain.
The market-renowned warehouse management software vendors that are also recognized by Gartner Magic Quadrant include SAP Extended Warehouse Management Software, Oracle Fusion Cloud Warehouse Management, Microsoft Dynamics 365 Supply Chain Management, Infor WMS, and Körber Warehouse Management Systems.  The best manufacturing ERP systems as per Forbes are SAP Business One Professional, Oracle NetSuite OneWorld, Microsoft Dynamics 365 Business Central, and Epicor Prophet 21 ERP.
Choosing Between ERP WMS and Warehouse Management Solutions
Intrinsically, robust warehouse management solutions and ERP systems with an extended warehouse management module are different, yet their functionalities overlap when meeting the most critical needs of a manufacturing enterprise.
In common parlance, both the software solutions' overarching goals are to empower a manufacturer to manage the warehouse in the most economical way and unlock capabilities that drive end-to-end visibility for all stakeholders for timely distribution and delivery of end products.
If a manufacturer had to compare and choose between the ERP system with an added warehouse management module and warehouse management solution, the decision makers' insights would definitely be somewhat confounding and subjective. Technology leaders like CIOs and CTOs would be concerned about selecting software that is more system and infrastructure-agnostic, has extendable functionality, and can be easily handled by their existing IT bandwidth. A CFO would look at the cost-benefit factor, and a COO is more likely to opt for software with high-flexibility features to fix diverse use cases.  Besides, there are several other parameters for deciding whether to implement an ERP system with a warehouse management module or a standalone warehouse management solution.  For now, let's demystify the four core differences between the two.
ERP Warehouse Management Module vs. Warehouse Management Solutions
Specialized Functionality: ERP is built holistically to automate and streamline operations across business workflows and departments including warehouse management, and warehouse management solutions are specific to the management of a warehouse. Warehouse management solutions are well-suited for large-sized manufacturers with colossal warehouse management requirements. ERP software is great for medium to small-sized manufacturing companies that can be easily scaled according to growth in business, manufacturing, and resource volumes.
Integration Capability: ERP systems are built on a unified view or central database concept. Their integration capability spans across business systems and applications giving real-time, single point of access. ERP systems need additional capabilities to manage supply chain operations including warehouse management that can be purchased as an upgrade or add-on module.
Warehouse management solutions integrate with other applications and systems including ERP using API, warehouse control systems, and outbound logistics and supply chain systems.  However, it is mostly standalone software concerning warehouse operations, keeping it siloed from other business areas.
Cost Consideration: ERP Systems with extended warehouse management capability are best suited for manufacturers looking for a diverse application with an add-on functionality that can be purchased based on their requirements. This works out in terms of cost efficiency for a business that is already using ERP and is looking to optimize ERP investments. Warehouse management solutions are fully featured software that are exclusive to warehouse management and costs include software license, initial customization, implementation, upgrades, training, and support.
Change Management: With respect to ERP systems, manufacturers can leverage the software's scalability to align with the changing business requirements and pace of growth.  The same can be done to adjust to dynamic warehouse management needs by upgrading with a warehouse management module. Whereas the implementation of warehouse management solutions is time-consuming, takes approximately 6 months, and requires significant change management.
Exploring the Warehouse Management Module in SAP Business One
The more we seek definitive answers, the more we discover subjectivity.  It is impossible to rule out that having more than one software application would be counterproductive and may lead to the risk of data duplicity and errors. If an SAP consultant had to break down the features and benefits of the warehouse management module which is an extension of SAP material management- inventory management or SAP MM-IM, here's what they would want a manufacturer to know:
Understanding SAP WMS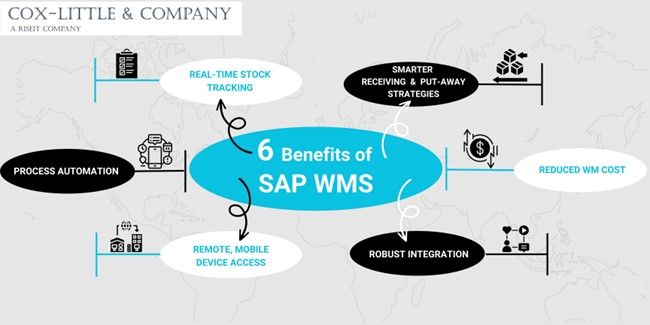 For starters, the SAP Extended Warehouse Management is called SAP Warehouse Management System or SAP WMS. The SAP WM is the component of the SAP LES (SAP Logistics Execution System) included in the SAP Business One. The WMS interfaces with the other modules including inventory management, production planning and supply, quality control, remote data processing, and sales and distribution module. The SAP WM comes into play after the material or inventory has left the manufacturer's IM. The SAP WMS is useful for providing benefits such as:
Accurate and Real-time Stock Tracking: When the stock is in the warehouse storage, manual tracking of the exact location is a daunting task. By allowing accurate access and tracking of stock receipts and inventory transfers and integrating price lists, the SAP WMS speeds up the inbound and outbound warehouse processing. Additionally, they accelerate visibility check processes for inventory tracking without any scope for errors by providing a user-friendly dashboard.
Better Receiving and Put-away Strategies: Many warehouses even today use antiquated methods of manually noting down materials and items received and reconciling them against the receipts. SAP WMS' built-in RFID and extensive integration with other billings and other digital payment software aid in better management of received and to-put-away items as per the business rules or warehouse structure.
Reduced Warehouse Management Cost: A real-time update into the warehouse resources, personnel, turnaround times, productivity gaps, and related costs helps minimize excess wastages, boosting productivity and cost reduction. It simplifies navigating the complex warehouse structure and workflows, making warehouse operations much smoother and more efficient.
Robust Integration: Robust integration capability helps interface with a slew of tools and technologies including bar code scanners, RFIDs, manufacturing devices and wearables, and mission-critical manufacturing solutions like transport management systems, logistics software, CRM tools, and more. This helps centralized operations that are led by disparate processes and workflows for holistic management of the warehouse.
Remote, Mobile Device Access: As per a recent warehouse and distribution center survey, almost 73% of warehouse workers use smartphones and tablets, 55% bar code scanners, and 18% GPS technology with 28% planning to deploy GPS in the next 12 months. These findings reveal the importance of remote, cloud-based access and the use of mobile devices by frontline workers for dynamically managing warehouses, inventory, and worker data, accelerating operational efficiency and productivity. SAP WMS actively supports remote labor collaboration and tracking of labor movements and activities by leveraging strong device integration capabilities.
Process Automation: End-to-end automation and streamlining of warehouse processes from inbound material or stock purchases to outbound deliveries drive smoother operations and efficiency required for handling larger volume transactions. By eliminating repetitive, manual efforts and scope for duplicate data entries, ERP with a warehouse management module helps unlock efficiency beyond the upkeep of the warehouse for speedy and agile delivery fulfillment experiences.
ERP ecosystem for the manufacturing industry is brimming with promises. ERP Modules using On-Prem, cloud-based, or hybrid delivery models on an ERP system are a leg up to pivot functions and operations to meet the manufacturer's business objectives.
Our goal at Cox-Little is to leverage our experience in ERP staffing to help manufacturing companies unleash the full potential of ERP systems with the right know-how and skills guaranteed by certified ERP consultants to manage their manufacturing needs. By putting together insights on relevant customization and ERP modules, our talented and experienced professionals will guide your teams to address and adapt to the ever-changing needs of businesses across the manufacturing, distribution, warehousing, transportation, and storage industries
For more information on manufacturing ERP consultation, talk to our experts today!