The logistics industry is instrumental to a manufacturer's profitability and seamless delivery of goods to the end customers. The entire spectrum of logistics operations from packaging, delivery handling, shipping, and transportation is a convoluted part of the value chain dictated by consumer expectations for quality and service standards. At first glance, logistics and supply chain management may seem like interchangeable terms. But supply-chain management is a high-level network of sourcing, storage, manufacturing, transportation, and sales entities involved in delivering finished goods to customers. Supply chain management requires logistics to fulfill raw materials sourcing to delivery of final products. Logistics, on the other hand, involves planning and coordination of processes, people, and resources to ensure the movement of products and services to reach customers on time and at cost-effective rates which would, in turn, impact a business's top and bottom line.
As per recent industry statistics, North America's share of logistics spending makes up 25.1% of the total global logistics spending. The major challenge for the logistics providers is the shipping damage. The replacement cost for the damaged goods is typically 17 higher than the original shipment cost.
Additionally, there have been major societal shifts from ownership to asset sharing approach in the U.S. logistics industry. Nearly, 41% of the consumers have used shared economy offering such as on-demand, fast, or same-day delivery services. Moreover, industry research predictions warn of a revenue loss of $7 billion by 2025 in the logistics sector.
Keeping up with today's competitive market categorized by rapid digitization, increasing global trade, and growing demand for goods requires technological support with predictive intelligence to stay relevant and avert challenges. A study by PWC examining the forces that are transforming the transport and logistics industry finds the dynamic growth of software-driven process solutions over the past few years such as AI, robotics process automation (RPA), and predictive maintenance. These changes are guaranteed to drive incremental benefits for the logistics companies. However, enterprise resource planning or ERP for logistics companies remains a staple tool that facilitates logistics management with a cohesive view of the entire business operations, accelerating information sharing across functions, systems, applications, and stakeholders.
There are several industry-agnostic best ERP for logistics companies with additional modules for logistics management as well as ERP logistics software platforms to help streamline logistics processes and workflows. If you are still ambivalent towards ERP system implementation for your logistics business, let us explore the numerous benefits of the logistics ERP systems:
Ten Benefits of Using ERP Systems for Logistics Companies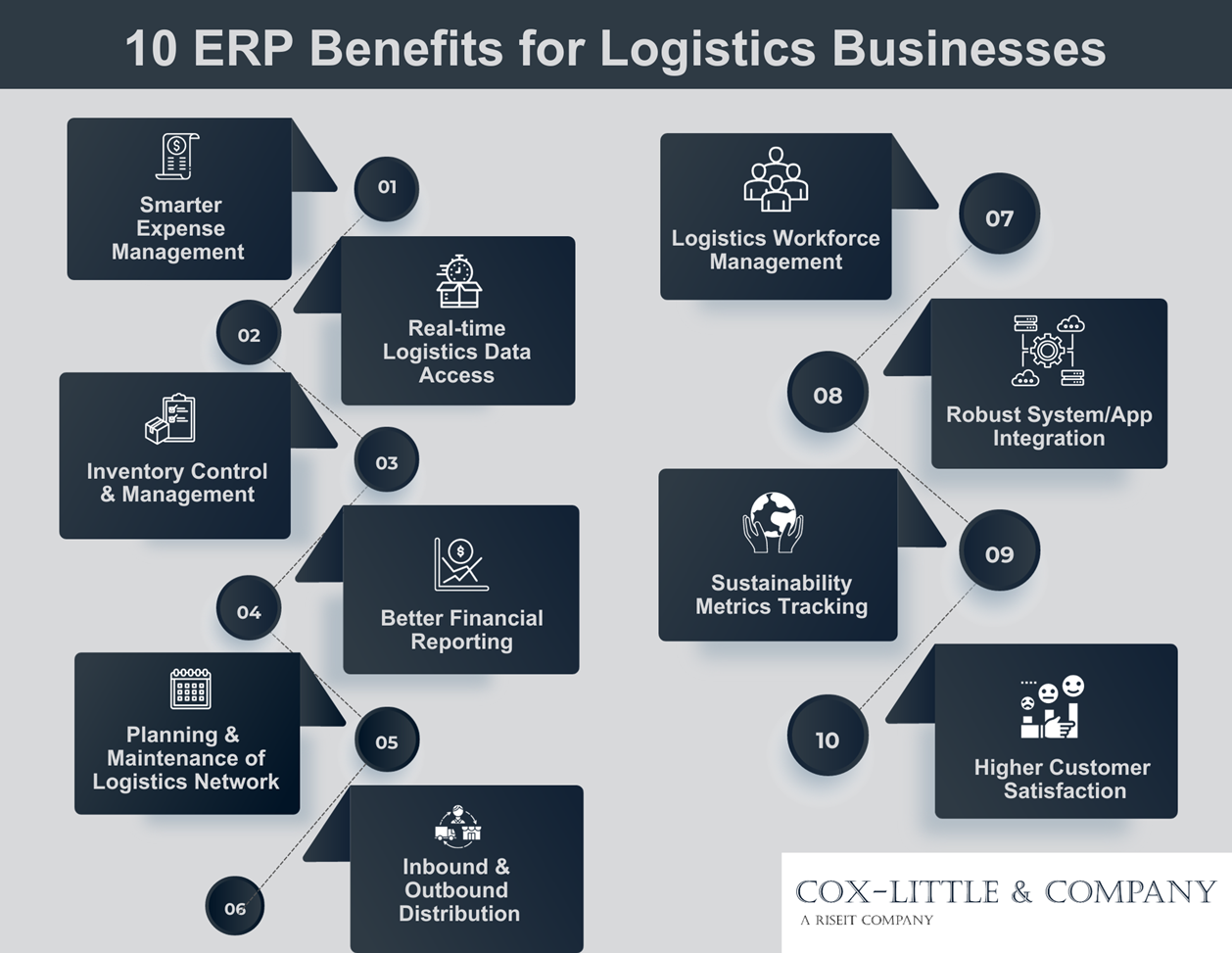 Better Expense Management: A major benefit of ERP systems is timely and accurate access to monthly expenses that enable decision-makers to prudently plan and implement changes that allow better expense management. By keeping unnecessary expectations in check, logistics companies can optimize budgets by diverting funding into areas that boost efficiency and productivity overall.
Real-time Logistics Data Access: The centralized view of the logistics data and processes from material purchases to storage and packaging to final transportation of final products which the ERP systems cater to management of much complex tasks like vehicle and shipment tracking and route planning leveraging features like business intelligence and GPS tracking. Access to real-time logistics information will also facilitate better communication of the logistics data to the sales and delivery executive teams and customer relations managers to work towards enhancing customer support and experience.
Inventory Control & Management: Inventory modules in ERP systems or logistics ERP platforms allow customization to enable comprehensive visualization of inventory data on a single dashboard. From existing stock information to orders and delivery requests, real-time inventory data helps in efficient inventory management and control predicts inbound and outbound orders, and automate purchases without the risk of over- and understocked inventory. Traceability tools integrated with ERP platforms equipped with bar-code scanning or RFID tracking offer a granular level visibility into inventory and exact quantity and location.
Better Financial Reporting: Accounting tools in ERP systems help check revenues and expenses frequently, balance accounts receivables and accounts payables, run automated financial reports, and measure and track profit milestones and logistics budgets. The data from financial reports help logistics management companies and teams to identify the reasons set relevant metrics for financial performance and proactively engage in workforce and resources planning and predictive budgeting.
Planning & Maintenance of Logistics Network: The logistics network involves a complex mix of transport and shipping elements like vehicles, staff and merchandise involved in the physical movement of goods. ERP systems with transport modules and shipment features as well as fleet management capabilities help with better planning and management of logistics resources and preempt uncertainties like fleet downtime due to repairs and breakdown by leveraging predictive maintenance.
Inbound & Outbound Distribution: Smarter management of distribution channels and distribution time is one of the important merits of deploying ERP software for the logistics It would be easier to channel the platform's transparency and flexibility to understand the stakeholders that are involved in the inbound and outbound distribution system to stay on top of outstanding payments, distributor details, inventory, in-transit, receivables, customer reviews and much more. Major decision makers and leaders can derive meaningful insights by diving deep into the distribution trends to understand causes for delays, wastages, and mismanagement to improve efficiency.
Logistics Workforce Management: An ERP for logistics company can be a refreshing alternative to manual systems of time tracking, staff attendance, performance reviews, insurance renewals and other tasks involved in management of logistics Some of the best ERP for logistics firms enable automated, error-free human resource management processes and can be integrated on mobile devices to connect with logistics staff in-field and in remote locations.
Robust Integration: Logistics companies need software platforms that easily integrate into their current infrastructure and IT systems. At an intrinsic level, logistics ERP software has a flexible integration capability bringing every aspect of the operations, stakeholders, and applications together. Cloud-based ERP solutions that can be accessed anywhere, at any time on any device ensure that data is constantly exchanged. Even in situations where logistics companies undergo mergers or buy outs, ERP systems make sure to store and exchange historical data and drive paperless transactions for better operational efficiency.
Sustainability Metrics Tracking: Every business entity is responsible for lowering carbon emission rates and adhering to environmental, social and governance (ESG) regulations. Logistics companies are no exception and can significantly take advantage of data tracking functionality in ERP systems with logistics modules or industry-specific platform to understand fuel and power consumption, resource utilization, distance, overhead costs, and fleet operations to bring down carbon footprint.
Customer Satisfaction: The end goal is to keep the customers satisfied to maintain a continuous stream of revenue. Businesses using ERP logistics with customer analytics data features to review at a granular level to understand deliveries, customer orders, prices, and other aspects to find ways that enhance customer experience and satisfaction. Logistics companies can integrate ERP systems with their CRM platforms to regularly keep track of customer data and share that information with respective departments that work in tandem to delight customers.
Firms using ERP logistics thrive on certainty. Modern ERP for logistics companies brings order and structure, eliminating any room for guesswork that can risk their revenue and profitability. ERP systems with logistics modules or ERP software for the logistics industry help businesses adapt to situations and reshape operations and networks to not only sustain their business but also seek new opportunities.
At Cox-Little, our goal is to empower businesses with ERP staffing solutions to be aware of the bottlenecks to success and make a thorough evaluation of their requirements for scalability, customization, implementation goals, and budget structure while selecting a befitting ERP vendor. By making an informed decision, we believe logistics companies can outshine competitors and stay ahead of the curve, leveraging market-leading ERP software for the logistics industry.
For more information on ERP logistics consultation, talk to our experts today!