It is no surprise that challenges in the post-pandemic world are more sophisticated. Serious goods shortages, rising consumer demands, and unfavorable market conditions push many businesses to rethink management of the entire operational lifecycle. So far, many industries endured millions worth of losses due to the pandemic-driven supply chain disruptions. Almost 17% of automotive and transport companies worth over $100 million were impacted by supply chain issues, according to industry research. To stay ahead of the curve, transport companies deploying ERP software solutions also expect a tremendous uplift in the features and capabilities for better ROIs.
Based on our reflections from the many ERP implementation and integration success stories for transport companies, we agree that the ERP software trends in 2023 have aptly evolved to make a business' ERP investments worthwhile. Many market-leading ERP software for the transport industry can address several issues that are an inherent part of the ecosystem. For example, modern transport companies need an enterprise-wide IT platform that can adapt to its existing infrastructure architecture and scale according to their growth requirements. These can be readily fulfilled by most transport ERP software. Additionally, due to the convoluted structure of the end-to-end transport ecosystem, there are no dearth of opportunities to push for newer features within an ERP platform for improved monitoring and transparency.
Transport ERP systems also address inadequate integration issues between data managing systems and applications. This helps in reducing the chances for accounting, operational, and financial oversights that eventually lead to increased costs, poor compliance, and inadequate use of relevant resources.
Implementing an ERP system for a transport company is like strengthening their 'a digital eyes' that boosts their overall awareness about the business. And end-to-end integration capability of ERP software for transport companies imparts a sense of 'direction' to lead activities tied to the delivery fulfillment at a better cost and performance. ERP systems built for transport companies, or a leading ERP system transport management module can power up administrative and operational realms of the business by giving a slew of features for long-term value creation.
In our previous blogs, we have gone over the fundamental benefits of ERP systems. To broaden a business's reach for tools and techniques that optimally enhance transport velocity, let us explore the ten must-have ERP features:
Ten Most Sought-After Features of an ERP System for the Transport Industry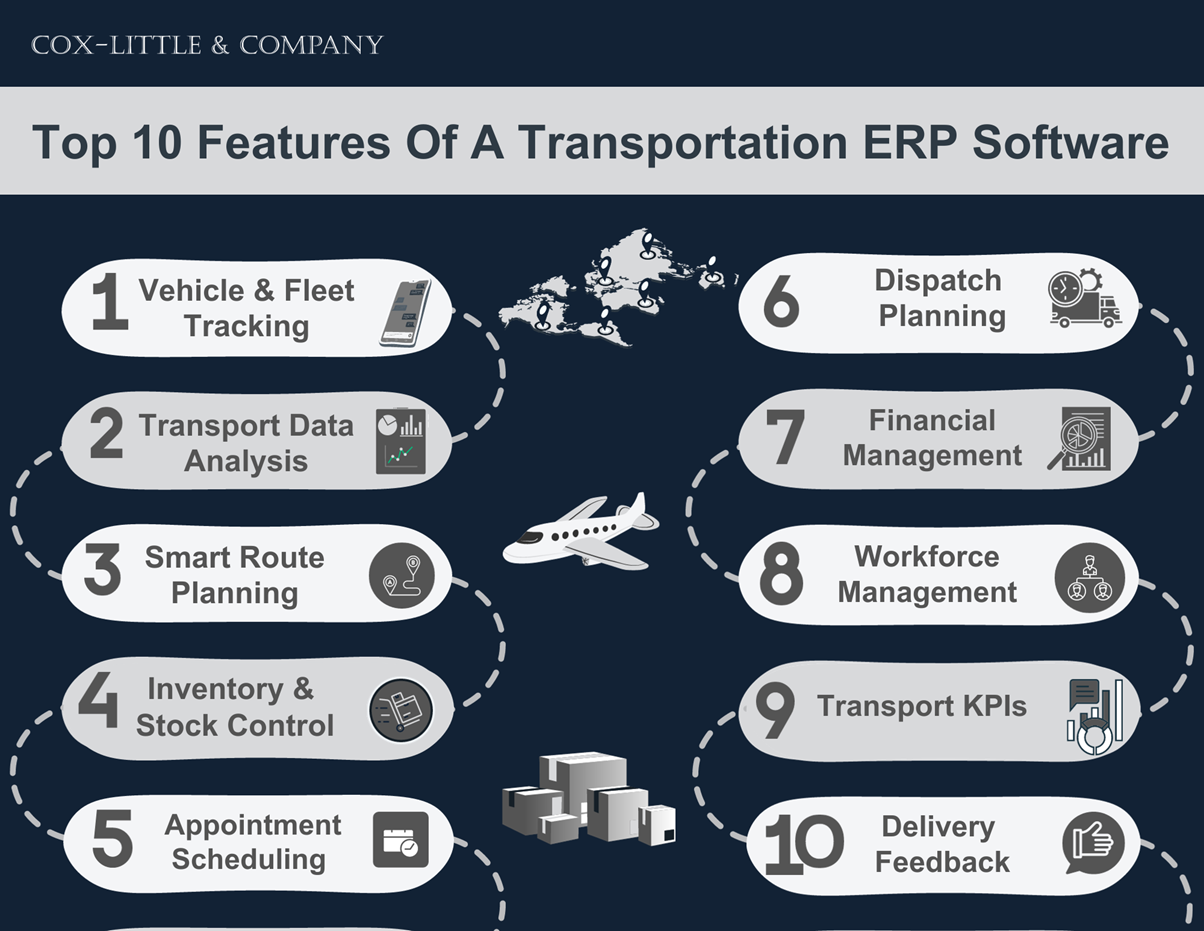 Vehicle and Fleet Tracking: Having a real-time update on vehicle circulation is a complex task for transport companies. An ERP system for the transport industry built with real-time vehicle tracking capability helps optimize routes and vehicle capacity. This helps with efficient time or cost management. The real-time visibility with timely access to vehicle and fleet movement data offers a wealth of insights that can be compared with historical information on job schedules and shifts, routes, speeds, locations, and personnel to make delivery predictions. Moreover, updates sent as notifications or SMS help keep track of the traffic and vehicles in near real-time by the vendors, customers, and stakeholders.
Transport Data Analysis: A simple, unified dashboard with a download of all transport and logistics processes, resources, and departments can work wonders for a transport company. Modern ERP software systems enable the compilation of data in high volumes from disparate systems for deep analysis. The comprehensive data analytics capability of ERP systems helps transport and logistics companies leverage relevant insights to boost operational efficiency, decision-making, capacity planning, and productivity.
Smart Route Planning: Poor route planning is a major roadblock to cost and resource savings for transport companies. An ERP system for transport companies can allow reviewing of all transport orders to measure and decide the most optimal route, mode of delivery, and number of carriers required to ensure timely distribution and delivery of inventory and goods.
Inventory and Stock Control: A predominant value proposition of ERP software for the transport industry is end-to-end integration. This capability can be leveraged for the seamless management of inventory data records. Additionally, the inventory management module purchased atop an ERP solution helps provide end-to-end updates on the inbound and outbound inventory stock, stock quantity, and the stakeholders involved such as the buyers, storage companies, distributors, and manufacturers. Access to this information is useful in deciding the pricing, predicting sales trends, and forecasting changes in manufacturing costs. Another functionality that transportation companies can use with the ERP systems is RFID tracking to keep tabs on the lot numbers, stock volumes, serial numbers, and expiry dates to enable proactive inventory tracking and stock control.
Appointment Scheduling: Transport and logistics companies cannot operate without seamless coordination with the storage and distribution partners, suppliers, retailers, and packers. Using transportation ERP software allows for smarter appointment scheduling and concurrent booking of lots, docks, and storage spaces. The appointment scheduling capability ensures that transport companies can stick to their delivery commitments within planned the cost and capacity.
Dispatch Planning: Unpredictability is a primary issue that most transport companies can effectively address by leveraging the transport management module in the ERP system. Dispatch planning can be bettered using ERP systems to simultaneously plan and manage multiple dispatch items from different sales orders or delivery schedules without the risk of delays or overshooting the transport budget.
Financial Management: The accounting software module in most ERP systems simplifies cash flow across the business, helps compare revenue, and balances accounts receivable with accounts payable. Without the risk of account misappropriation or human error, transport companies can rely on the accuracy of financial and accounting reports to assess financial health for budget planning, managing bills, and improving profitability.
Workforce Management: Managers and supervisors overseeing transport and logistics projects can overcome the hassle of extensive paperwork to stay aware of employee performance, leaves, remuneration, and work schedules. They can make a comprehensive report of various aspects of personnel management using transportation ERP software to aid business leaders in making compelling choices with respect to the workforce.
Transport KPIs: To make decisions on the go, transport companies must avoid any approach that is subjective while measuring revenue generation, delivery performance, cost-per-unit, and more. A transportation ERP software with relevant customizations helps establish clear KPIs and targets that can be referenced for measuring critical factors to productivity, performance, and profitability.
Delivery Feedback: Transport companies can enhance customer service and improve overall transport administrative and operational factors with delivery follow-up information on the transportation ERP software based on the date of delivery, mode of shipment, customs clearance, and invoicing details.
Conclusion:
Every business' overarching goal is profitability and ERP investment is a key enabler. Steering the bulk of processes and practices towards profitability requires a deep level of transparency and integration that most ERP systems are known for. But to stand out and keep up with the growing sustainability pressures of lowering carbon footprint while aiming for efficiency, IT leaders of transport companies must think beyond generic ERP capabilities. With the right customization and right features and functionalities, transportation ERP software can open doors to market differentiation and industry leadership.
At Cox-Little & Company, we believe understanding ERP software requirements is a critical task for organizations looking to change their status quo. Our dedicated, multidisciplinary team of ERP staffing experts understands strong selection criteria to lead end-to-end ERP projects for better operational, financial, and business outcomes. Join our Cox-Little team today to start your conversation regarding your business' ERP platform needs and long-term vision.