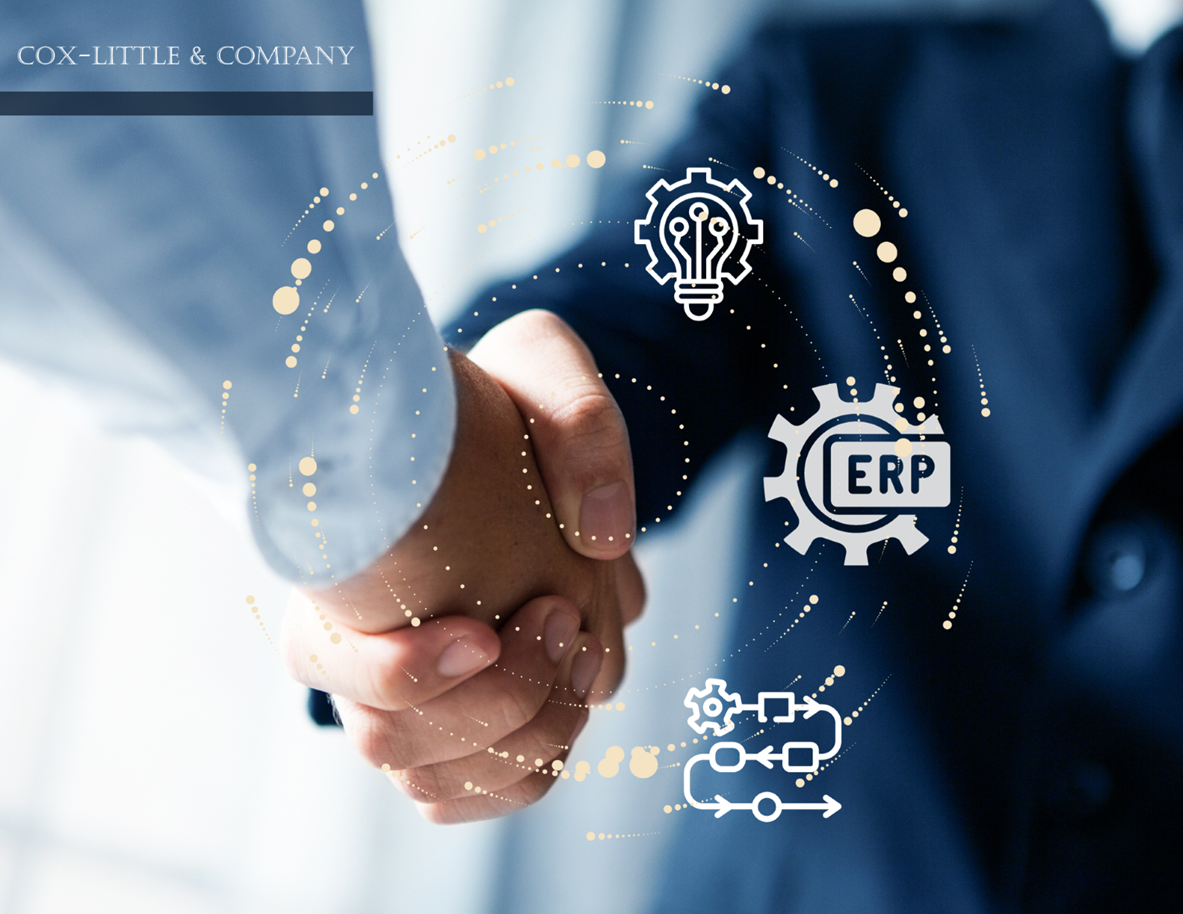 If your business is looking to capture the real value of cloud ERP, it would be great to reacquaint yourself with Epicor Kinetic and its latest update to the ERP platform.
Epicor Kinetic, formerly known as Epicor ERP, recently launched the latest upgrade, Epicor Kinetic ERP 2023.1. For manufacturers whose goals are to keep up with the ongoing digital momentum, the brand-new, intuitive, and future-focused additions of Epicor Kinetic are worth taking a look at.
In this blog, we will also explore the benefits of Epicor Kinetic ERP staff augmentation for the manufacturing industry.
Everything a Manufacturer Needs to Know about Epicor Kinetic
On April 6th, 2021, Epicor announced the rebranded version of the Epicor ERP 11, Epicor Kinetic to shed the old version numbering system and make it fully cloud-based to help 20k+ on-prem customers leverage digitization. The flagship cloud-native, Epicor Kinetic, is built on Azure and leverages its intelligent cloud and advanced IoT, AI, and ML technologies.
The actual design was released early in 2018 with an advanced application interface accessed over a web browser. The name, Kinetic was originally given to the Epicor ERP UX/UI framework released with the intent of modernizing the visuals and enabling the developers to create device-agnostic and form-agnostic applications.
The goal behind this rebranding effort was to not only deliver an expectational, responsive browser UX but also release the flagship manufacturing ERP solution with several other updates. Additionally, Epicor Industry Insights 2021 also found 94% of business leaders who participated in the survey responded that cloud is integral to futureproofing their business. The release of Epicor Kinetic caters head-on to the requirements of large manufacturers with expanded cloud options and new, improved features for better insights and productivity.
The pre-release versions were available to 100 customers. Their feedback triggered about 500+ updates for the final release of Epicor Kinetic.
After migrating their users to Epicor Kinetic, the software provider was able to enhance the overall navigation experience and improve the visual interface for better platform accessibility and users' productivity.
Application Studio, the low-code/no-code environment supporting Epicor Kinetic also helps make customization less consuming and complicated. The initial product release of the product was known as Epicor Kinetic 2021.1 which could be available both on-prem or on the cloud.
Features of Epicor Kinetic 2021.1
Epicor Kinetic was built with industry-specific capabilities for manufacturing users and includes complex use cases like engineer-to-order and assemble-to-order processes. The easy-to-deploy, scale, and access, Epicor Kinetic was released for general availability on June 10th, 2021, with the following features:
High Integration: Users can build their own integrations that match with Epicor Kinetic APIs or connect with CRM, e-commerce, logistics, analytics, and HR platforms in data formats like JSON, XML, AII EDI, Flat Text Structures, EDI docs, and Hierarchical Text Structures. Also, the DCKAP Integrator simplifies Epicor Kinetic integration with user-friendliness, pre-defined integration templates, and quick deployment features. All and all, Epicor Kinetic can easily integrate with third-party cloud and most on-prem or SaaS applications.
Any Browser-based: The Epicor Kinetic is completely browser-based and works on any modern browser including Edge browsers, Chrome, and Apple iOS. The Application Studio also runs in the browser with new tools for UI customization.
Module-richness: The cloud-native ERP included modules such as supply chain management (SCM), product management, customer relationship management (CRM), business intelligence (BI), financial and sales management, data management, and governance, risk, and compliance.
Extensive Personalization: The Epicor Kinetic Application Studio's low code/no-code functionality helps personalize the interface and build more intuitiveness for better navigation and visual enhancements. The feature-rich dashboard available in the main menu options allows extensive personalization. Users can add layers, change rules, components, and events with the drag-and-drop options.
Secure and Scalable Cloud: Epicor Kinetic's Enterprise Services package is for larger manufacturing customers with complex material resource planning and billing. It helps with real-time access to manufacturing plants that are geographically dispersed over a secure and scalable cloud platform for better transparency and control. It also includes premium support expertise that caters to the customers' needs with sophisticated global manufacturing processes.
Enhanced Document Security: The Epicor Docstar solution, now known as Enterprise Content Management, has enhanced security and custom revision numbering that would readily address the document security requirements of users in aerospace and defense and medical device manufacturing.
EDI Integrations: Upon acquiring 1 EDI Source, a provider of electronic data interchange solutions, Epicor added it to its product portfolio and built new endpoints for real-time connectivity. Users can standardize EDI transactions and also receive alerts for ten standard demand and supply-side documents.
Smart Spreadsheet Integration: Speadsheet Server, the new generation XL Connect built by insightsoftware offers a data reporting system within Excel by ingesting live data from Kinetic and scheduling report generation in various formats.
Superior e-commerce experience: By updating the Epicor Commerce Connect with newer visual features and enhancements, the ERP platform strives to offer a superior e-commerce experience.
Higher Compliance: Users in medical device manufacturing can leverage Epicor Kinetic to adhere to FDA software standards. The manufacturers from the aerospace and defense can use the platform which supports CMMC regulations.
Extensive Help & Support Resources: To save time in accessing any help and support panel, Epicor Kinetic's type-head predictive search results make it easier to access information and resources on the go.
Epicor Kinetic 2022 and Further Updates
After a series of pilot and production system upgrades to the Epicor Kinetic, during the fall of 2022, Epicor added more valuable industry-specific features. It included connected services as a part of its cloud ERP portfolio. The update included industry-unique functionalities for better integration and workflow optimizations such as:
Inventory Tracking: Users can monitor the inventory partly or revise it to reduce maintenance time, component compatibility, and earn a complete view of the inventory segmentation.
Improved API: The API integration between Epicor Kinetic and Epicor Advanced MES includes passing of Downtime and Scrap codes.
E-Signatures: Embedded electronic signature functionality that can be accessed over the Business Process Management (BPM) to support compliance and quality management needs.
Sales Order Management: Iterations to the platform include higher visibility of Make-to-Orders for sales fulfillment and streamlining of the release of sales orders to picking.
Better Financial Reporting: Financial reporting capabilities that integrate with procurement to pay trackers and GL reporting. It shows deep financial data insights.
The connected services of the Epicor Kinetic 2022 release include updates that allow:
Users of Epicor Commerce optimize the access to freight data from Quick Ship customers, reducing the need to maintain shipping rates in both applications.
Deeper Integration between Epicor Kinetic and Epicor CPQ: Along with integration, it includes features like 3D Sketch & Extrude and a MoM Viewer Widget to view MoM calculations by the users during the configuration process.
For a better UX journey, the Epicor Kinetic 2022 fall release added two more feature updates that allowed manufacturing customers to:
Digital Messaging: For better employee engagement, the ERP platform offered digital messaging along with a notification engine.
Mobile-optimize Experience: For higher collaboration, the platform delivered an optimized mobile experience.
Latest Release Updates of Epicor Kinetic 2023.1
Like its predecessor, Epicor Kinetic 2022 underwent multiple updates and releases. The latest version, Epicor Kinetic 2023.1 promises to aid manufacturers to unlock data value and use it to drive transformative innovations. The upgraded Epicor Kinetic 2023.1 boasts intuitive, easily configurable, and guided browser-based applications. It simplifies personalization and integrated access to APS, CRM, and CPQ software.  Below is the rundown of the release highlights and benefits of the new feature addition to the Epicor Kinetic 2023.1:
Serial Tracking for Higher Visibility: The serial tracking for revision- and attribute-tracked parts along with MES improvements, and LoT trace view guarantee a higher degree of control and process visibility.
Quick Ship Additions: Features like USB scale support and CPQ now work with the Epicor Commerce Dealer Portal to provide visual dealer configurations and support.
Optimized Browser Experience: Application Studio's low-cod/no-code capability and added Sugar CRM, and Big Commerce to the Automation Studio industry template allow for a better browser experience.
Optimized Workflows: Users can accelerate workflow and internal operational processes with new Automated Fulfilment, Visual Procure to Pay, Inactive GL accounts warnings, and GL Journal Header Descriptions.
Expanded Cloud Capabilities: The Cloud offerings include Cloud SDK, ongoing country-specific functionality updates, and a USB scale interface for workstations.
Grow: The latest update to the Epicor Kinetic ERP cloud is the access to Grow, a low-code/no-code business intelligence solution. Grow connects customers to Kinetic Business Activity Queries, along with 75 other popular apps and platforms. In summary, the solution's data and dashboards for the Citizen Analysts help derive actionable data insight.
How Epicor Kinetic ERP Staff Augmentation Accelerates Manufacturer's ERP Journey 
With the widespread digital adoption, manufacturing companies are pressured to constantly evolve. With too little bandwidth, manufacturers cannot oversee every aspect of their operations including ERP platform selection, implementation, and customizations. Moreover, businesses implement ERP systems to achieve improved process time, higher collaboration, and centralized data systems. Therefore, the stakes are high in manufacturers' ERP projects. Even if they pick a popular ERP vendor like Epicor Kinetic with software packages having out-of-the-box capabilities, they need to assess relevant pricing models, the right deployment approach, and customization levels. Embarking on an ERP journey requires strategic planning and expert guidance. Epicor Kinetic ERP staff augmentation is a surefire way of avoiding the risk of ERP budget overruns, poor ROIs, and lengthy implementation cycles.
Hiring an ERP advisory team from consultants, developers, and enterprise architects to project managers and executives who have worked with Epicor Kinetic ERP can augment a firm's bandwidth and efforts. To maximize your Epicor ERP investments below are the five reasons to choose Epicor Kinetic ERP staff augmentation: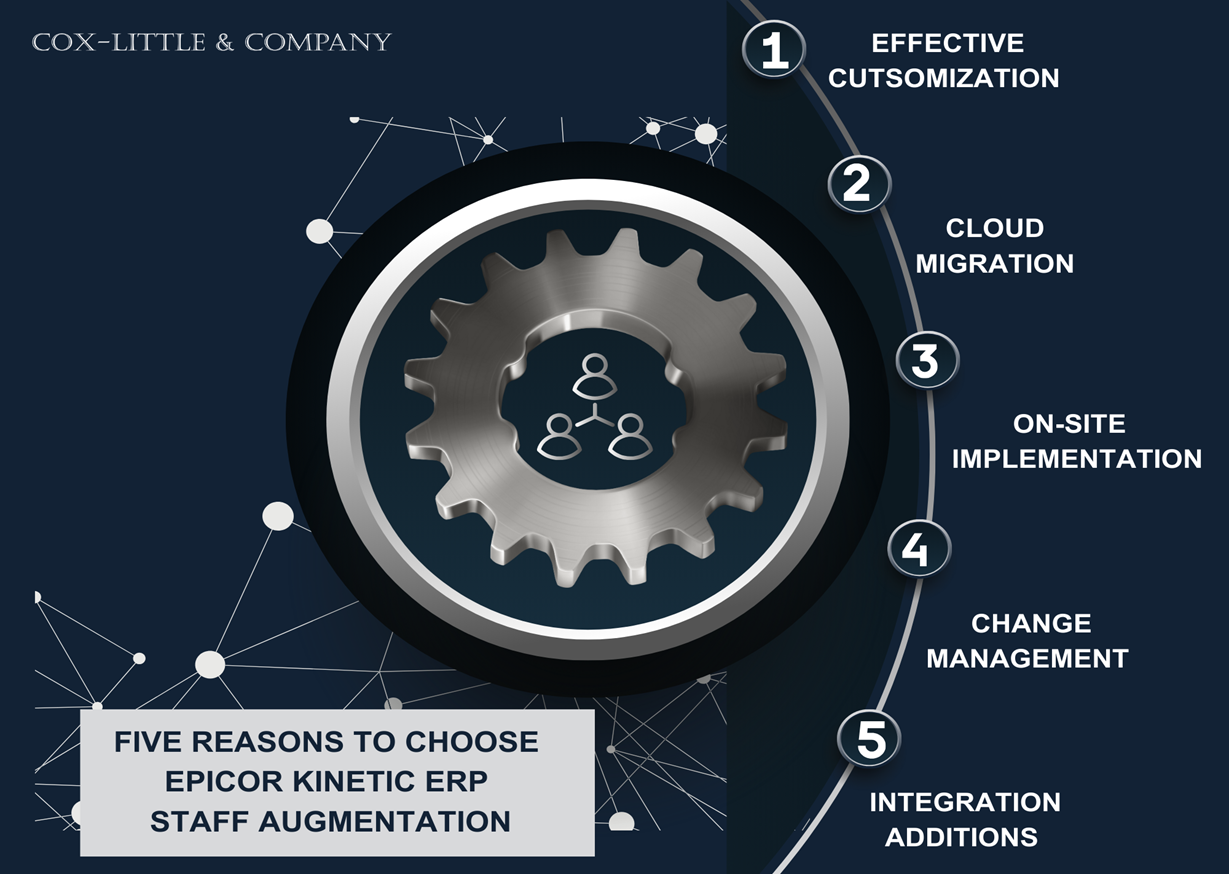 Effective Customization: Customizing ERP software to add a key business functionality requires writing a code. Sometimes the customized codes are not supported in system updates and may require frequent code review and testing. To add business functionality that can build a competitive edge, companies need a degree of understanding of the process and workflow complexities that vary across organizations. Not all manufacturing companies have full-time, dedicated ERP resources to manage customizations. That's where Epicor Kinetic ERP staff augmentation services can be a value-add to make necessary customizations without sacrificing the business' competitive advantages.
Seamless ERP Cloud Migration: Whether a business is a user of an on-prem ERP system looking to move to the cloud-based Epicor Kinetic ERP to leverage its high-availability and scalability benefits, Epicor ERP experts help determine the best path. They can help manufacturing businesses be in better control of the pace of migration by analyzing whether the ERP cloud deployment strategy is aligned with the long-term goals. From choosing the right cloud vendor, deployment models, and planning the systems that should remain on-prem or moved to the cloud architecture, ERP experts with Epicor Kinetic ERP cloud implementation skills shorten the learning curve and help prevent cloud-adoption roadblocks.
On-site Implementation: Involving the consultants during the development of the on-site implementation strategy helps set realistic goals for a smooth and cost-effective ERP implementation without pushing the go-live date. The ERP consultants' past Epicor Kinetic ERP system on-site implementation and roll-out experience can be leveraged to understand how to use its pre-defined ERP features, identify technology blind spots, and augment internal teams. This helps them adapt better to the ERP environs with consistent training, support, and testing.
Change Management: Change management has to be a natural progression rather than a series of steps ticked off in the ERP implementation checklist. Change management practices must follow an inclusive and collaborative approach with a constant feedback loop from users across departments, processes, and workflows. Hiring an Epicor Kinetic ERP expert with hands-on change management expertise can avert potential conflicts arising from sudden disruption from system and application migrations. They help prep for changing scalability and customization needs. By following a data-backed approach based on consensus from teams and internal resources led by an Epicor Kinetic ERP expert, change management can be a seamless and iterative process.
Integration Additions: Just like change management, ERP integration is a dynamic process that requires a phased and flexible strategy. From breaking down the ERP integration concept into comprehensive tasks and processes, ERP experts help deliver essential knowledge about relevant data join, data entry, data migration, validation, data synchronization, or data analysis. They can use their skill and real-world experience in handling complex use cases to solve integration challenges and build integration best practices for existing applications without the need for a complete system overhaul. ERP staff augmentation can offer additional assistance for integrating applications through APIs and vest exclusive focus on data security, data join, authentication, encryption, and compliance.
Our Takeaway:
There are always merits and drawbacks to choosing an ERP solution. Understanding an ERP system in its entirety and simplifying it in layman's terms is a lifelong experience. Therefore, seeking external ERP staff to work in tandem with the internal teams is necessary for lowering the risk of implementation failures or any unprecedented technical or organizational issues.
At Cox-Little & Company, we believe in 'keeping the lights on' with ERP staffing to deliver the ability to configure, personalize, tailor, and manage ERP solutions without the high rate of IT staff churn and burnout. Manufacturers can access our multi-disciplinary team of ERP experts to augment their Epicor Kinetic ERP projects. Join the Cox-Little team today to start your conversation regarding your business' ERP platform needs and long-term vision.