The food and beverage manufacturing industry across the world is on the cusp of change with ongoing digitization, tech innovations, and evolving customer preferences. This year, the worldwide market for food and beverage companies climbed from $6,729.54 billion in 2022 to $7,221.73 billion These growth trends are attributable to geopolitical factors like the Russia-Ukraine war, economic sanctions, supply chain disruptions, rising prices, and inflation. But beyond these macroeconomic disruptions, countries including the U.S. are left to confront serious issues like climate change, drought, and low crop yields.
A recent exhaustive study by Gartner on supply chain adaptations to changing climate reveals an interesting correlation between climate change and supply chain. Almost 72% of supply chain firms expect climate to impact their ability to drive supply chain strategy in the next 10 years. Concurrently, Gartner's 2022 Industry Line of Business (LoB) Buying Behavior Survey also found that 19% of manufacturers still cite supply chain disruption as their largest challenge. All these research findings on the current state of the food and beverages industry call for more strategic planning and tech adoption geared towards accelerating sustainability and overall innovation of the food supply chain and manufacturing operations.
As challenges continue to brew, enterprise resource planning (ERP) software remains the 'DeFacto tool' for keeping a check on all business processes in real time while lowering inventory costs and improving the quality of production operations and manufacturing output.
To help food and beverage manufacturing businesses boost competitiveness, enhance process visibility, increase agility, retain customers, and meet compliance, many On-Prem and cloud-based food manufacturing ERP systems offer a full slew of modules and industry-tailored functionalities. But to fully optimize the value of their ERP investments, food and beverage manufacturers must be discerning of the below list of trends that are directly disrupting their manufacturing standards.
Five Global Trends Disrupting the Food and Beverage Manufacturing Industry
Rise of Healthier and Plant-based Alternatives: A recent consumer trend observed by the ADM, an American food processing and commodities trading company is that 52% of the global consumers are veering towards plant-based dietary options. These changing preferences are influenced by collective perceptions about the impact of health issues, animal welfare, and environmental sustainability. The rise of veganism and vegetarian alternatives to meat-based diets are driving significant demand for plant-based product innovations and developments. Food and beverage manufacturers must cater to the new preferences while delivering to the taste, texture, quality, and experience expectations of customers.
Transparency into Product Ingredients and Supply Chain: The sourcing, inbound movement of the supply chain, and the list of ingredients that go into the food and beverage products influence today's consumers' buying decisions. The findings from the ADM Outside Voice survey suggest that almost 70% of the consumers believe that identifiable ingredients in products determine their buying decisions and nearly 66% of the same respondents expressed their preference for products with the shortest ingredients list. The transparent supply chain is the way forward to satisfying today's ethically and environmentally conscious buyers. As a result of this level of consumer awareness about sustainability, health, and carbon emissions food and beverage manufacturing companies must embrace innovative and ethical product sourcing, processing, and manufacturing techniques to prove their accountability to customers.
Growing Emphasis on Sustainability: Sustainability is at the heart of manufacturing in the food and beverage industry. Sustainable packaging and local sourcing of products and raw materials to environmentally safe recycling and waste management practices have been the prime focus of manufacturing businesses. Around 40% of consumers across the world show acceptance and trust towards brands that are serious about sustainability initiatives. For 2023, Gartner's research on Rethink Supply Chain Strategy for Interconnected Risks and Opportunities suggests that the ill effects of climate change pose an opportunity to educate key stakeholders about the end-to-end sustainable supply chain and risk planning.
E-commerce Explosion: The worldwide increase in the proliferation of smartphone devices and internet adoption created a new pathway for online sales of food and beverages for household consumption. As of 2022, there were nearly 14 billion online shoppers who made up 27% of the total world population. Based on these supporting trends, the food and beverage e-commerce market is likely to reach $140.42 billion in 2027.
Use of Automation and Disruptive Technologies: Labor shortages and tighter supply chains force food and beverage manufacturers to leverage automation in manufacturing operations for better quality control, increased food safety, and end-to-end visibility to improve the supply chain and reduce manual intervention and overhead costs. The use of AI and ML-led solutions is further revolutionizing the industry by unlocking capabilities like demand forecasting, image and product data-based analysis, personalized recommendations, and predictive maintenance.
7 Reasons Why Food Manufacturing ERP Systems are Required in Today's Industry Climate
In our previous blogs, we have explored the crucial role of ERP in combining disparate aspects of business operations to ensure smooth collaboration between people and systems. Most of the core functionalities of the ERP systems are relevant for the food and beverage manufacturing industry. For starters, food manufacturing ERP systems help liberate these businesses from antiquated methods for tracing, visualizing, and documenting the flow of goods and data across the manufacturing value chain.  Further benefits of food manufacturing ERP software adoption to the food and beverage manufacturing companies are listed below: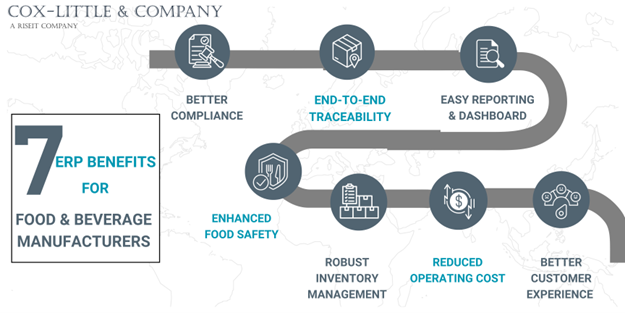 Better Compliance: Food and beverage companies turn to robust ERP system capabilities and seek advice from ERP experts who would be adept in binding compliance and regulatory protocols with the in-house software systems. Moreover, a food manufacturing ERP system built for the domain would help keep track of changing regulatory and compliance norms without wasting precious man-hours and resources.
End-to-end traceability: Tracking inventory, especially the stock shelf-life and expiry dates is essential for maintaining product quality and safety. Food and beverage manufacturers can benefit from end-to-end traceability from raw material sourcing, order processing, ingredient tracking, recipe management to managing bills and receipts, product planning and much more. Also, keeping track of warehousing and logistics to marketing, sales, customer relations, and quality control, a beverage and food manufacturing ERP system traceability holistically benefits the manufacturing business.
Reporting and Dashboard: ERP systems help provide a unified dashboard to view relevant data and information siloed in different systems and applications. Additionally, ERP software platforms' built-in analytical tools help compile the data and break it down as important metrics for reporting on quality, yield, resource utilization, and production time to enable data-driven manufacturing decision-making.
Enhanced Food Safety: Food safety and ensuring high-quality standards are best managed with customized food manufacturing ERP systems designed to stay abreast of the recent food safety and compliance policies. Food and beverage manufacturers can proactively stay prepared for events like batch recall or regular quality audit and checks. This requires having access to data, process workflows, product designs, ingredients, hazardous materials, and relevant paperwork and documentation at a granular level that an ERP system readily enables for making decisions on the go and meeting food safety standards.
Robust Inventory Management: ERP systems help forecast future demands and track existing inventory data to aid smart purchase decisions, waste minimization, and prep the production storage and distribution for unpredictable scenarios like seasonal fluctuations and increasing customer demand. The superpower of ERP systems is in gathering large volumes of data across the manufacturing workflow and enabling its seamless flow across the departments to ensure the right inventory of the right quantity is made available at the right time.
Reduced Operating Cost: Having an understanding of mundane backend manufacturing tasks or processes that can be automated gives a significant leg up in overall food and beverage manufacturing. Food manufacturing ERP systems with material resource planning modules eliminate the need for manual tracking. ERP platforms can be customized as per the data processing and analysis requirements as well and manually-led operations that have a high scope for errors and discrepancies like invoicing, billing, and reporting can be automated to save operating costs and other production-related expenses.
Better Customer Experience: ERP platforms with customer relationship management (CRM) modules and integration with CRM systems collate, manage, and analyze customer transactions, customer data, and interactions across the sales funnel to unlock insights that may be crucial for enhancing customer experience. Maintaining great customer relations with superior customer experience is essential for upholding brand image and revenue generation for food and beverage manufacturing companies.
Food for Thought:
Staying agile and efficient is the key to evolving amid the competition pressures and industry shifts in food and beverage manufacturing. Cutting-edge capabilities built on top of modern ERP systems help business and revenue prophecies but also remain future-proofed.  There are many ERP platforms that are fully compliant, easy to deploy, and fully integrated to help with real-time updates of the manufacturing business. The add-on modules of food manufacturing ERP solutions that can purchased on top of the ERP software solution help unlatch additional capabilities that are exclusive to the needs of your food and beverage manufacturing company.
At Cox-Little, our ERP experts understand the pressures of choosing an appropriate solution that blends well with your profits and business philosophies. We are fully equipped with the right ERP talent to handhold you throughout the ERP implementation journey.
For more information on food and beverage manufacturing ERP, talk to our experts today!