2023 marks an important milestone for the global electronics manufacturing industry.  Even after a year of acute shifts by virtue of the COVID-19 pandemic, semiconductor shortage, and inflationary pressures, electronics manufacturers demonstrated remarkable resilience. A large chunk of this growth can be directly attributed to smartphone and smart device proliferation and increased electrification initiatives that have driven the demand for consumer electronics goods. Additionally, rapid digitization trends and AI solutions paved the way for intelligent manufacturing with hyperconnected supply chains and digital supply networks driving up productivity, performance, and profitability. According to a recent study, the market of electronics manufacturing services providers is growing alongside healthcare, automotive, and industrial applications manufacturing. The study also forecasts a CAGR of 4.27%, from $550.22 billion in 2023 to 794.32 billion in 2032.
To survive in this competitive landscape and build a competitive edge, electronics manufacturers must augment process and product design capabilities, quality control, and transparency across manufacturing operations and production sites. Enterprise Resource Planning (ERP) systems are groundbreaking solutions for an electronics manufacturer's businesses for providing real-time visibility to oversee and track machinery, supply chain, manufacturing workflows, production costs, material inventory, and much more to make informed decisions on the go-to boost manufacturing efficiency.
There are several ERP systems built for electronics manufacturing with features and functionalities specific to the industry or product ecosystem. In this blog, we shall explore the common complexities that are plaguing the electronics manufacturing industry and how ERP software adoption helps address them.
7 Most Pressing Issues in Electronics Manufacturing that ERP Systems Help Address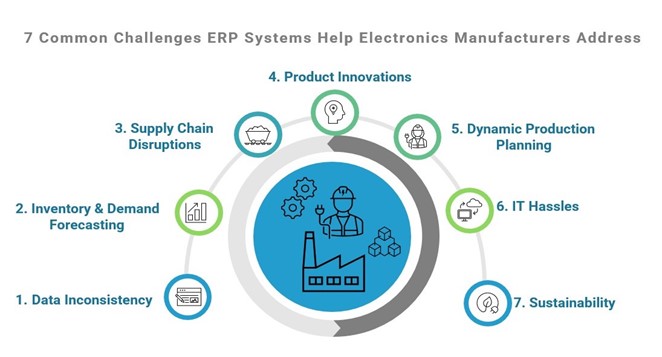 Data Inconsistencies: Manufacturing data resides across systems, devices, and databases. Lack of standardization in data storage and sharing practices leads to inconsistencies, duplications, and discrepancies, resulting in costly errors and wastage of manufacturing time and resources. ERP systems' flagship capability of enabling centralized access to databases and data types is the first step toward ending data inconsistency issues by giving stakeholders and users across departments and functions a single and reliable source of truth.
Inventory Management and Demand Forecasting Barriers: Manufacturing volumes for electronics goods are dictated by consumer demand, changing preferences, and consumption trends. As the demand shifts, keeping tabs on inventory and material stocks and also giving the production departments an accurate picture to match product capacity is a herculean task. Moreover, the unpredictability factor compounds this issue. ERP systems' essential role is to address the barriers to visibility into inventory data to help prevent over or understocking and production delays.
Moreover, ERP integration into sales, CRM, and other systems helps with accurate demand and sales prediction. The inventory management capability of ERP helps plan, schedule, and manage inventory to scale as per the rise or fall in demand.
Supply Chain Disruptions: Recent geopolitical conflicts, sustainability concerns, rising prices, and technology-led disruptions continue to impact the global supply chain resulting in severe operational and financial concerns for the manufacturers. Managing supply chain processes with ERP software unlocks opportunities for any electronics manufacturer from demand planning, material sourcing, warehouse management, and procurement state to manufacturing and end-product distribution. Many industry-leading ERP software systems include supply chain management modules to collaborate, streamline, and automate operations at reduced cost and better speed.
If you are still skeptical about supply chain management with ERP from a tech standpoint, it is worth knowing that superior integration capability helps collate supply chain data across systems and applications from different vendors in real-time. Cloud-based ERP system's scalability features help adapt to changing business and demand requirements. Leveraging predictive analytics and planning features within ERP also helps electronics manufacturers prepare for the unknown.
Implementing Product Innovation: The product is an important piece in the electronics manufacturing mix. The pace of rapid product innovations in the electronics manufacturing industry to evoke customers with the latest and exciting features opens many conversations around design, sustainability, ethical sourcing, and workmanship. Electronics manufacturers need to run at speed and cost-efficiency and also adopt lean manufacturing best practices to create the latest, best products. ERP software helps an electronics manufacturer have a realistic and holistic view of their inventory, production processes, product engineering, and manufacturing capacity to build and deliver output with a short product lifecycle and also satisfy regulatory, operational, and quality requirements for electronics manufacturers.
Dynamic Production Planning: Production or the process of converting a raw material or materials into a finished product involves an elaborate system of humans, materials, machinery, design and strategy, and technology that work in tandem. Planning, scheduling, and overseeing the entire production activity as per the target timeline can be accelerated through the adoption of a manufacturing ERP system. It helps allow better connectivity into various components of production at a reduced cost by bringing the right people together at the right time. With better control and tracking of pricing, material availability, vendor performance, paperwork, and product quality, electronics manufacturers can make production decisions at capacity and stay prepared for contingencies. Leveraging ERP integration with production planning and CAD reduces engineering efforts, leading to better version control and upholding their brand integrity and customer satisfaction goals.
IT Hassles around ERP Implementation: The common IT challenges plaguing manufacturers using ERP software solutions range from On-Prem to cloud migrations, data synchronization, sharing and loss prevention, integration with the existing systems, scalability, and customization. According to an ERP survey, the factors to successful ERP implementation include people and processes as well as management support and change management. Apart from achieving a centralized view of the data with ERP software, electronics manufacturers can trounce IT-related hassles associated with their ERP implementations by engaging with marketing-leading experts to develop, deploy, and support end-to-end ERP software adoption.
Sustainability: Sustainable innovations drive the future of electronics manufacturing. Many renowned electronics manufacturing brands including Samsung, IBM, Toshiba, and Apple enact on their sustainability measures in manufacturing by moving to greener alternatives to conventional printed circuit boards (PCBs) and integrated circuits. About 20% of PCBs will be produced using sustainable methods and materials in 2023. Insight into manufacturing data is an important key to building and implementing sustainability initiatives.
Manufacturing ERP software builds on this narrative to empower electronics manufacturers to adopt lean manufacturing processes, optimize inventory, workflows, resources, and production capability, and reduce wastage and delays to exercise their sustainability principles.
Takeaways from the Overall Trends in Electronics Manufacturing
The ERP market is in a state of rapid expansion and is predicted to exceed $49.5 billion over the next two years. Cost efficiency, performance efficiency, and resource optimization remain the key considerations for ERP adoption by an electronics manufacturer for now and in the future. With digitalization, sustainability, compliance, and social responsibility dictating the terms of electronics manufacturing, the reasons and opportunities for ERP systems adoption are plentiful.
At Cox-Little, we believe in unlocking the potential of the best manufacturing ERP software with the right talent and expertise that make implementation projects a success rather than an overkill. Cox-Little is fully equipped to help companies across industries including electronics manufacturing to unlock true value in a continuum. Our talented and experienced ERP professionals will help guide you throughout the ERP implementation journey so that an electronics manufacturer can ensure optimal business performance while making a strategic shift in their production, manufacturing, and supply chain management.
For more information on manufacturing ERP implementation consultation, talk to our experts now!