The speed of digitization has intensified across industries including manufacturing. Despite the tumultuous impact of the COVID-19 pandemic, market research predicted a 2.5% GDP growth in the U.S. manufacturing industry this year. However, as the recent inflation and economic uncertainty continue to loom, leaders and decision-makers of new manufacturing companies need an effective enterprise resource planning (ERP) implementation playbook to pivot faster with existing technologies, capabilities, and resources.
Almost 47% of users of ERP software are manufacturing companies, according to research. Another study by the IT consulting firm, Panorama, revealed that almost 95% of companies saw process improvements post-ERP implementation. But beyond the empirical evidence about ERP for manufacturing, integration, or the process of connecting an ERP system's application programming interface (API) with external systems' APIs, supercharges data exchange and synchronicity across various business functions.
Unlocking Integration Benefits with Manufacturing ERP Software
Suppose you are a manufacturer who is looking to roll out the best manufacturing ERP software implementation to a new facility, chances are the systems and data remain siloed and fragmented from your main ERP ecosystem. To meet and exceed competitive standards, manufacturers need ERP integration into the central system for real-time data visibility across the entire manufacturing value chain anytime, anywhere.  With a unified database, it becomes easier to track, control, monitor, and document end-to-end manufacturing workflows, enabling streamlined and interconnected ERP systems.
In a nutshell, manufacturing ERP software integration consolidates all applications, systems, and modules including production planning, material resource management, factory floor setup, warehouse management, logistics, and supply chain management into a centralized system for a better flow of communication and transparency to elevate manufacturing operations and performance. An integrated ERP system is analogous to a well-connected nervous system with a single ultimate view to enable swift and data-driven decisions. The three ERP integration methods include point-to-point integration, enterprise bus service (EBS), and integrated Platform as a Service (iPaaS).
The most common ERP integrations in manufacturing include supply chain management, procurement, finance, accounting, and customer relationship management (CRM).
Nine Key Considerations for Implementing and Integrating a Manufacturing ERP Software into a Centralized System 
For illustration, let's consider a global manufacturing company that recently set up a new manufacturing unit. They are looking to deploy a market-leading manufacturing ERP that helps standardize business, operational, and manufacturing processes and synchronizes the new facility's ERP with the central ERP system.
To benefit optimally from their ERP software investment, below are eight key considerations for implementing an ERP platform into the new manufacturing unit and integrating it into the centralized system: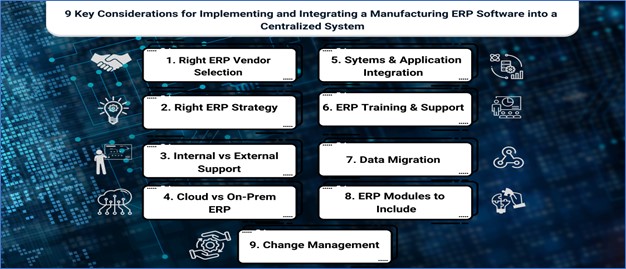 Selecting the Right ERP Vendor: There is more to the implementation of manufacturing ERP systems than just picking software. The operational and budgetary requirements of the new manufacturing unit along with the shifting regulatory and economic climate impact the parent company's decision to choose the ERP vendor. The selection would be based on the provider whose ERP manufacturing software platform helps deliver according to the dynamic production, supply chain, material procurement, and logistics requirements that are unique to the industry.
Choosing the Right ERP Strategy: Managing a slew of business functions and plugging them into a centralized database or selecting the required modules from a manufacturing ERP provider, the integration process requires significant IT bandwidth. In the case the manufacturer's budget permits they can look into a renowned ERP vendor or explore affordable pre-built systems with generic functionalities. However, to custom manufacture and tailor ERP features right from the engineering stage to the final shipping phase, the manufacturer will have to choose the latter strategy which may be essential for averting future hurdles and inefficiencies.
ERP Implementation is Led Internally or Externally: The manufacturer must assess if their dedicated tech teams have the implementation, deployment, project management, and delivery bandwidth or if they need to outsource it to an external ERP implementation consultant. If the manufacturing process involves complex product components, assembly and subassemblies, and designs that require intellectual property, it would be wiser to outsource to an external ERP integration consultant. Moreover, experts for ERP for manufacturing firms would help leverage the platform to convert engineering data into costing, accounting, and operational data to quickly scale as per demand and supply chain disruptions. All in all, the manufacturing ERP implementation strategy should set clear guidelines on the deployment timeline, updates, working structure, automation areas, supplier collaboration, production schedules, and aggregating critical business information from various sources.
Cloud vs. On-Prem ERP Software: There are initial costs associated with hardware purchase when opting for an On-Prem ERP. It may require in-person visits and inspections by the engineers for maintenance, managing configurations, and upgrades. Cloud ERP software needs less time for implementation and deployment. It requires Wi-Fi to set up, can be accessed remotely on devices, and scaled according to the number of users. Moreover, Cloud ERP vendors' tech support teams proactively manage downtimes and upgrades that work out in terms of cost-efficiency, enabling manufacturers to focus on their core activities.
Integration with Existing Systems and Applications: Org-wide transparency led by integration and collaboration between existing systems and teams with an ERP platform is the overarching goal of implementing the best ERP for manufacturing. The manufacturer can leverage an ERP system for better decision-making by understanding their integration requirements. Market-leading ERP platforms enable seamless integrations based on:
Data Management Objectives: Data resides in manufacturers' IoT systems and devices that are exchanged with the warehouse, supply chain, payment, business intelligence, CRM, and sales platform. The data management practices influence how the stakeholders prefer data to be organized, stored, and managed within the centralized ERP. Additionally, there is a strong emphasis on data security, governance, and accessibility for integration.
Business Process Optimization: Building a roadmap of business processes and analyzing the efficacy of existing workflows helps provide insights into the areas that can be optimized and integrated with ERP systems for better outcomes.
Scalability Demands: ERP systems need to scale and cater to integration requirements to meet evolving business needs, growth trajectories, changes in material procurement and shipping costs, design alterations, and more.
Need for Continuous Improvement: Manufacturing companies try to maximize their ERP investment with consistent efforts to improve and optimize ERP systems based on user feedback and by monitoring system performance. Continuous improvement objectives decide the direction where the centralized ERP takes business with frequent and incremental iterations.
Investment in ERP Training and Support: Most manufacturers strive to stay abreast of rapid digitization trends and regulatory requirements around data protection and privacy. To make the most of their ERP investments, they need to ensure that different departments are adequately acquainted with data security policies, basic UI features of the software, implementation modules, customization protocols, and end-user training.
Prioritizing Data for Migration: Manufacturers moving their systems and applications to ERP need to prioritize the data types relevant to their goals before migrating into the new system. Holding on to supply chain and sales data can aid in demand planning and forecasting. Unsold stock and inventory data can help unlock insights to implement lean production practices. Migrating legacy data can be misleading and expensive. The aim is to give stakeholders access to the right data at the right time, while also ensuring data monitoring and strong encryption practices.
Components to Include in ERP Modules: ERP modules are designed for defining capabilities and functionalities that businesses can go live with or take a phased approach upon ERP implementation. Typically, there are top 10 ERP modules with financial management as the core module for giving an accurate financial perspective by generating necessary reports and automating tasks that improve financial and accounting processes. The rest of the modules are closely related to manufacturing finance like procurement, supply chain management, risk management, manufacturing process, CRM, and ERP analytics. Though there are standard ERP modules, awareness of what the manufacturing unit requires helps guide the selection of the right manufacturing ERP provider and integration approach to connect to the centralized ERP system.
Change Management: Changes to the organizational structure or management due to stakeholder buy-in or merger during the ERP implementation and integration are integral to the manufacturer's decision to select the best ERP software for manufacturing. The right ERP software enables seamless integration and transition into new environments and systems without infrastructure incompatibility issues, delays, additional costs, and complexities.
Regardless of the industry, the ERP implementation process is a months-long, intensive process of integrating business functions starting from finance, operations, human resources, sales, and marketing. While the implementation phase and duration vary, the end objective for manufacturers is to achieve top lines and bottom lines without letting technical roadblocks to ERP adoption get in the way.
Diving into the landscape of ERP for manufacturing can be overwhelming amid the whimsical technological evolutions and economic constraints. At Cox-Little, we understand the driving role of the best manufacturing ERP software implementation projects and are fully equipped to help companies across industries unlock true value in a continuum. Our team of talented and experienced ERP professionals will work to guide you throughout the ERP implementation journey so that your business can focus on long-term productivity and profitability.
For more information on manufacturing ERP implementation consultation, talk to our experts now!