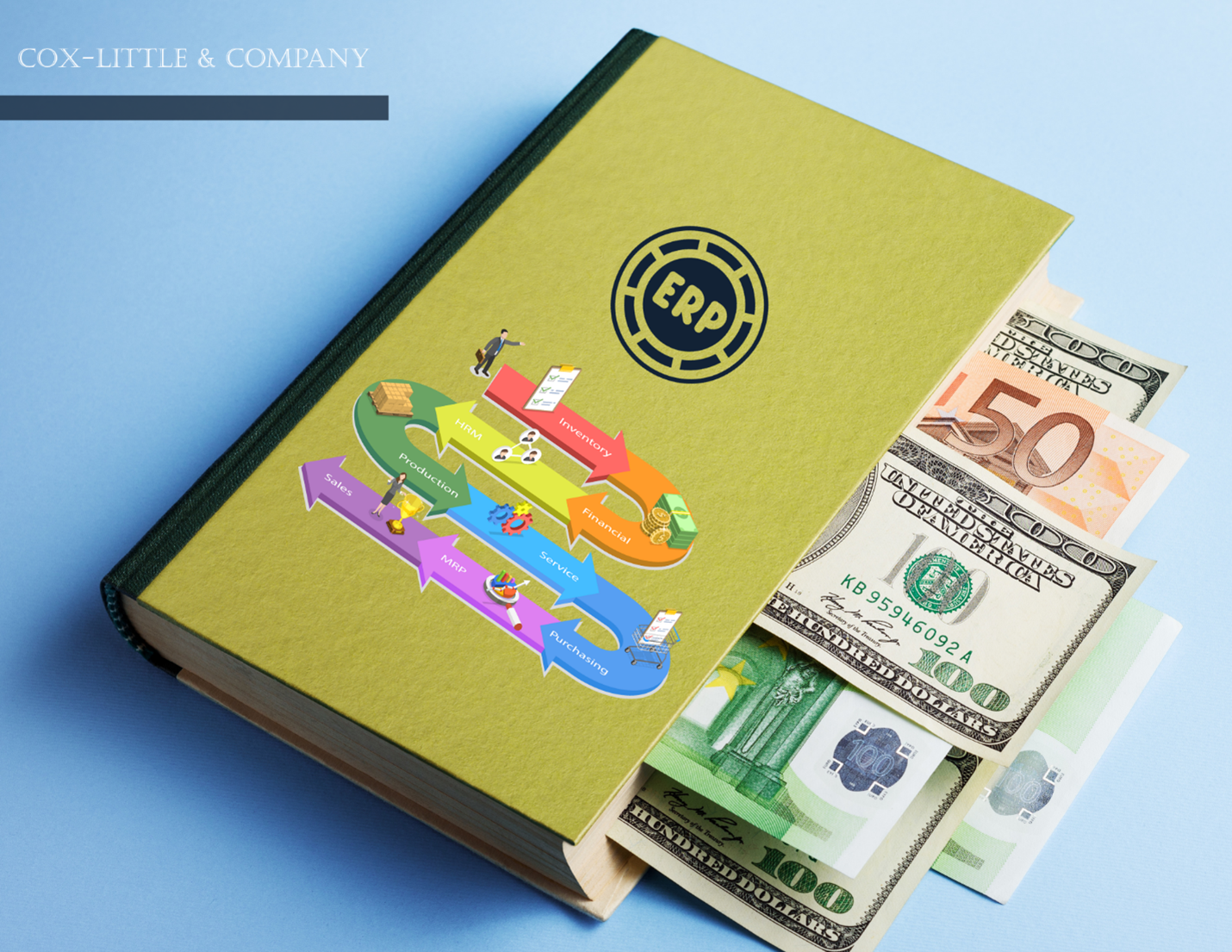 MS Dynamics 365 is one of the industry leaders in enterprise resource planning (ERP) and has two unique cloud-based offerings—Dynamics 365 and Dynamics 365 Finance and Operations (previously known as Dynamics AX). The fully featured ERP systems are packed with capabilities that streamline all critical functions into a centralized platform for better financial visibility and informed decision-making. If the financial leaders of your manufacturing firm are striving for real-time access to financial insights, they can seriously consider switching to Microsoft Dynamics 365 Finance and Operations with minimal disruption.
With additional support using staff augmentation or external resources with a dedicated focus on MS Dynamics 365 platform, features, modules, release updates, and deployments methodologies, your business can shorten the learning curve and build agility by strengthening Microsoft partnership.
In this blog, we shall explore the important aspects of MS Dynamics 365 Finance and Operations that CFOs and IT decision makers of manufacturing businesses must know.
All About MS Dynamics 365 for Manufacturing
Most of the MS Dynamics offerings including the Dynamics AX ERP were rebranded post their acquisitions. By retaining the name Dynamics and adding a short acronym at the end, Microsoft released four ERP packages and a CRM platform. These platforms underwent a series of reboot to increase their interoperability, integration capability, and simplified usage. In the recent versions, MS Dynamics 365 is offered as a complete suite of ERP and customer relationship management (CRM) platform and an extension of the Microsoft Azure cloud service to enable users securely store and manage data and workflows on the cloud.
The MS Dynamics 365 Finance and Operations is predominantly a cloud-based ERP offering that was released in 2016 through two licensing options—Dynamics 365 Finance and Dynamics 365 Supply Chain Management.
The Dynamics 365 Finance and Operations or D365FO has a significant role in the digital-first era to help businesses outshine competition and strive for long-term success. The cloud-based ERP platform can be offered to customers on on-premises basis and moved to the cloud at a later point as per their preference. The ERP solution is explicitly packed with capabilities to aid organizations to cohesively manage their financial, accounting, supply chain, human resources, and much more.
The MS Dynamics 365 Finance and Operations' 2023 fall release announced innovative updates to the ERP suite. Businesses looking to revamp their systems to keep up with digitization pressures can also unlock automation capabilities of the recent version of the MS Dynamics 365 Finance and Operations to keep the risks of manual errors and repetitive tasks at bay. In summary, the ERP platform is a versatile solution that is built to address the complexities of both medium and large businesses across industries.
15 Reasons to Choose MS Dynamics 365 Finance and Operations
The comprehensive ERP platform boasts of the below benefits to improve efficiency by simplifying business procedures and enhancing financial management:
Centralized Data Management: The MS Dynamics 365 Finance and Operations makes access to manufacturing data and its financial aspects easier and more centralized. By maintaining a unified repository of data, the platform shortens the access to critical financial data by relevant departments and stakeholders, breaking silos and any confusion with the most up-to-date information. Additionally, the platform helps unify all systems and applications along with data residing on multiple productivity apps, Microsoft Dynamics 365 platforms or the entire Microsoft product portfolio, and third-party software like Adobe campaigns and more.
Analytics-driven Insights and Reporting: The powerful AI and ML-backed analytics of the platform enables real-time data assessments and reporting to help key stakeholders measure and track core business and financial metrics. The accuracy of the data and timely analyses makes decision-making more informed, and data driven. Also, in just a few clicks, users can automate and generate reports and cross-reference data from a central hub across applications and systems.
Streamlined Financial Management: By automating repetitive tasks and manual operations, MS Dynamics 365 Finance and Operations helps automate routine invoicing, expense management and tracking, and financial reporting tasks. This helps make the financial operations more streamlined and error-free, making room for building better efficiency across financial processes and workflows.
Smarter Supply Chain Operations: Manufacturers looking to optimize their supply chain and distribution operations can leverage the tool across processes from procurement, inventory management and distribution, to production to distribution of manufactured goods and products. The end-to-end transparency over all the processes and operations helps manufacturers optimize resources better to keep tight control over the supply chain budgets, costs, and wastages.
Improved Customer Engagement: Tracking customer interactions at multiple touch points and across the customer journey help manufacturers find better insights to enhance their customer relationship for long-term revenue. Additionally, customers can leverage the innovative ERP platform's in-built AI capabilities to offer personalized customer experiences and make personalized products or service recommendations.
Higher Regulatory Compliance: By leveraging the in-built features of the MS Dynamics 365 Finance and Operations platform, manufacturers can comply with regulatory requirements. The most recent upgrades to the regulatory configuration tool within the platform—Regulatory Services, Configuration Services, and Electronic Reporting, manufacturers using various versions of the MS Dynamics platform can configure any feature that helps keep up with changed legal clauses, payment formats, and tax rules. Moreover, the no-code programming approach of the Configuration Service helps adapt to any change without the need to rewrite the code in multiple applications. This way, users can focus on satisfying the legal compliance rather than worrying about processes and making updates to systems, legal artifacts, etc.
Intelligent Order Management: From the slew of feature additions to the MS Dynamics 365 Finance and Operations the intelligent order management helps optimize a manufacturers coordinate, standardize, and optimize the orders that were captured through a single point of order orchestration across channels and systems. Using the intelligent recommendations feature that is based on the data analysis from historical data and CRM information, manufacturers can ensure they can fulfill these orders from their own warehouses or by using third-party logistics partners or delivery fulfillment partners. The customizable and integrated dashboards offer real-time visibility to help predict and overcome constraints.
Superior Fraud Protection: Microsoft's sophisticated tech stack uses connected big data across multiple lines of business and leverages cutting-edge AI capabilities to offer fraud protection functionalities to the users. The fraud protection includes:
Account Protection: Using Adaptive AI that learns to adapt to patterns of legitimate accounts and defend them against fraudulent activities like credential thefts, account replication, and bot networks.
Loss Prevention: The platform also providers loss prevention features by detecting transactional anomalies, building clear and concise anomalies reports, and automated discovery of at-risk entities on using intelligent ML capabilities.
Purchase Protection: By leveraging Adaptive AI, the platform helps business managers focus on driving profitability by continuously learning and adapting to the fraud payment patterns and transactions by looking into several aspects like device and location attributes and detailed risk insights for each transaction.
Remote Assist Features: The MS Dynamics 365 Remote Assist is built to make team collaboration, calling, and remote working experience. Technicians or workers using HoloLens, HoloLens 2, Android and Ios devices can share real-time updates while working from remote locations and leverage annotations in the Remote Assist user's space to make audio calls or use arrows, share reference images, schematics and other documents. Users can take advantage of voice commands, diverse language support, and click-to-join mixed reality video call that are built for loud, industrial environment.
Powerful BI Integration: The integrated analytics tool within the MS Dynamics 365 Finance and Operations is the Microsoft Power BI. The tool simplifies deriving timely insights and observational data that can serve as a basis for decision making in multiple areas. The integration with PowerApps and Microsoft Flow and embedding it in applications users can leverage the platform to create a data culture in their organization. To this end Microsoft has made several investments to improve the platform to deliver simple, intuitive experiences, enterprise-wide BI with self-service data preparation with Azure Data Lake Storage, cutting-edge AI for data exploration, and enabling the developers to embed reports and dashboards in applications.
Powerful Cloud Security: Since MS Dynamics 365 Finance and Operations is mostly a cloud-based solution that is built on Azure, it is one of the most secure and trusted ERP platforms. The low maintenance cost of managing hardware and own servers along with the rigorous data security and compliance standards offers users the level of safety that is hard to achieve in an on-premises environment. Moreover, Microsoft invests approximately a billion annually on security and boasts of global cyber footprint that offers unique insights on the security threats landscape to safeguard from potential attacks and threats.
Airtight Data Security: The disaster recovery and 24/7 technical support which are a part of the ERP platform helps manufacturer confidently exchange, store, and manage data workloads without incurring additional expenses on data protection and security. Also, the robust security features like multi-factor authentication and data encryption both at rest and in-transit ensure complete data protection.
Higher Cost-savings: Automation functionality for crucial financial tasks potentially averts risks of inaccuracies and dependency on manual processes and personnel, helping businesses save millions of dollars. Along with the ERP platform's flexible and scalable licensing model makes it easier for businesses to scale users and capabilities without needing additional cost on investment in resources or infrastructure.
Powerful Scalability: MS Dynamics 365 Finance and Operations is known for its high scalability that can adapt to the requirements of businesses of any size and scale up and down as per the number of users. Without investing in additional, expensive hardware or software and infrastructure, businesses can leverage the platform to address dynamic business needs in the long run.
Smart Integration Features: MS Dynamics 365 Finance and Operations is known for its superior integration functionality. From integrating seamlessly into the Microsoft product stack, the ERP platform can also be connected to payment platforms and gateways, and banking, e-Commerce, payroll and sales platforms to give businesses a holistic view of the key business and financial functions across the organization.
In a nutshell, the MS Dynamics 365 Finance and Operations is undoubtedly a potent tool for businesses switching to an ERP software for the long-haul. Financial leaders and decision makers wishing to refine their business' overall outlook towards financial management and operations processes can dive further into the platform's module functionalities: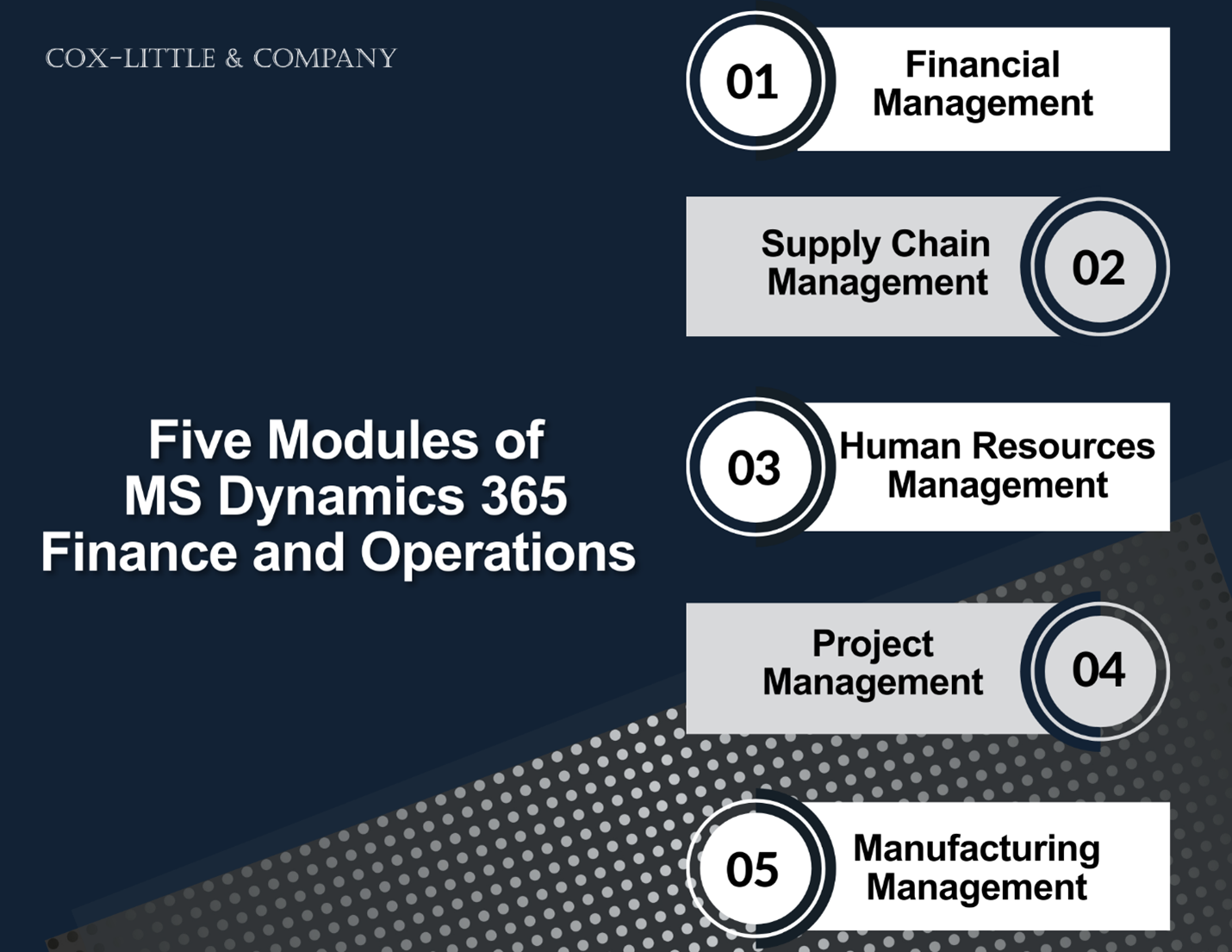 Financial Management: This financial management module helps handle tasks such as general ledger, accounts payable and receivable, budgeting, and financial reporting.
Supply Chain Management: This module encompasses end-to-end supply chain operations including the inventory management, procurement, logistics and order processing to achieve a smooth supply chain process and workflow.
Human Resources Management: This Human Resources module manages the entire HR-related functions such as employee records, employee payroll, benefits and rewards, recruitment policies and more.
Project Management: The project management module helps oversee the planning, resource allocation, and tracking of the progress of projects handled and executed within the business.
Manufacturing: The exhaustive manufacturing module is the go-to guide that helps with production planning, scheduling, shop floor management, and quality control for manufacturing operations.
Why You Need MS Dynamics 365 Finance and Operations Staff Augmentation
Microsoft Dynamics 365 Finance and Operations staff augmentations services empower businesses across several industry verticals to run efficient financial operations with their investments in the ERP platform. Experienced, multi-disciplinary ERP experts help take advantage of the cloud, in-built AI features, vast integration capabilities, and overall intuitiveness of the platform to unlock all expertise required by the business. Microsoft and its customers have a unique relationship that can progress into a golden handshake provided there is successful platform implementation and integration.
MS Dynamics 365 consultants who know the specific ins and outs of the ERP software are probably the best people to help grasp the platform's uniqueness and give invaluable insights on integration, deployment, evaluation, maintenance, and customization to keep up with today's industry demands.
At Cox-Little & Company, our ERP experts prioritize financial performance over other things using the modern, connected ERP platforms like MS Dynamics 365 Finance and Operations to drive business growth. Manufacturing firms can augment their internal staff and teams with our MS Dynamics 365 experts to guide and engage throughout the projects. Join the Cox-Little team today to get started on your conversations and journey with ERP systems and modules!