Workday Cloud is recognized as a leader at the 2023 Gartner Magic Quadrant for cloud ERP solutions for service-centric enterprises and is a preferred choice for cloud HCM suites for the eighth consecutive year. Recently, the new generation cloud-based application provider for human capital management (HCM) and financial management (FM) is gaining traction in the U.S. higher education space. This comes as no surprise with these institutions increasingly ramping up their search for more capable higher education ERP systems to address current industry challenges.
With more than 70% of higher education customers on solutions like Workday Financial Management, Workday Human Capital Management (HCM), or Workday Student, it is the miracle tool among the higher education ERP systems due to innovation and better learning experiences!
More than 400 higher education institutions are leveraging Workday's unified cloud-based system for financial, HR, and student data. Over the past year, almost 26 universities and colleges have been live on Workday Student through virtual deployments.
Higher education is riddled with many challenges around steeping enrollment and retention rates, financial shortages, operational burnouts, and evolving global trends. Leaders and decision-makers in the higher education industry need to maximize returns from technologies. The expectations from higher education ERP systems have been centered around elevating the quality of learning and student experience.  We have mapped out five critical trends challenging higher education and how Workday Cloud ERP can address these challenges to help succeed in the changing digital world.
5 Critical Challenges in Higher Education that Workday Cloud ERP Helps Clear Up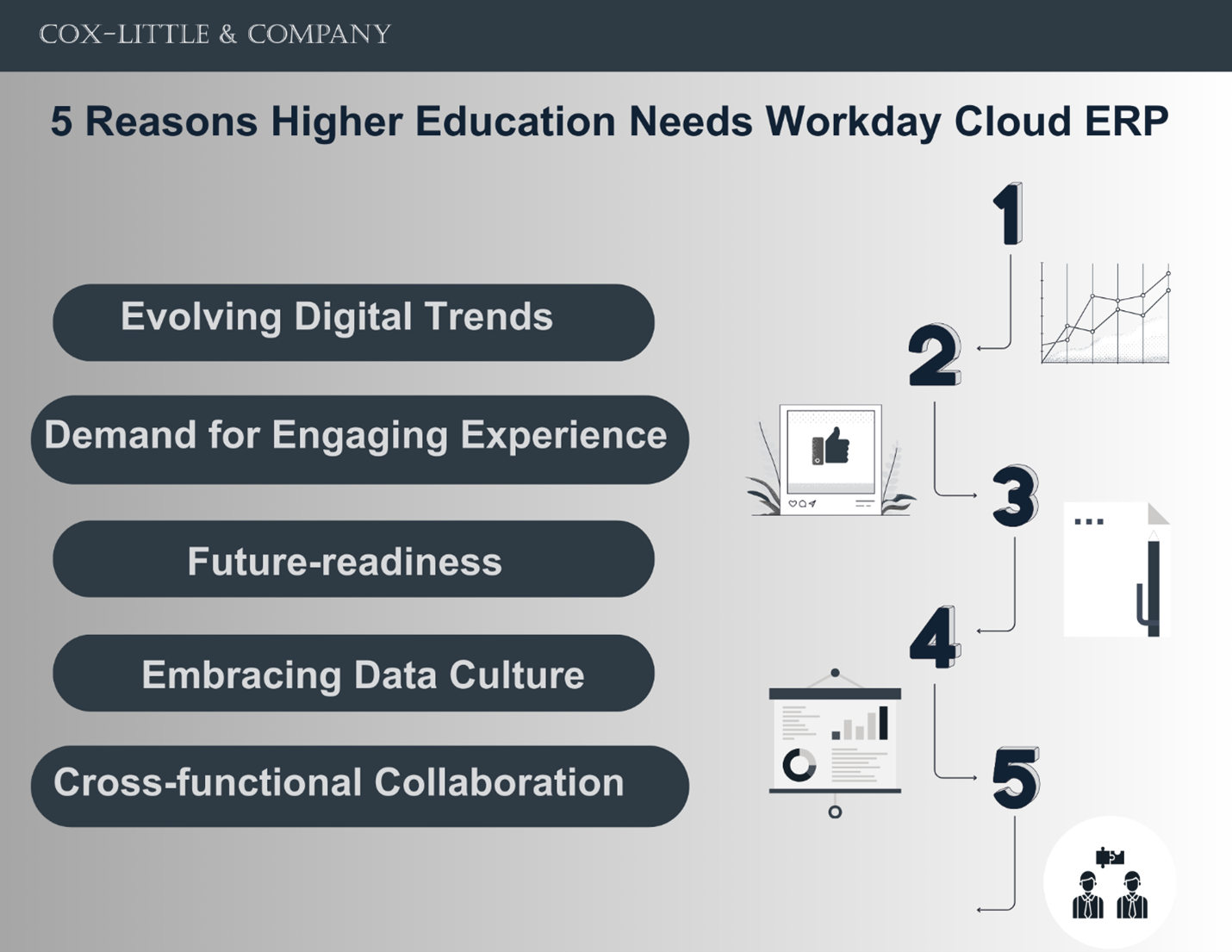 Evolving Digital Trends
An irrefutable pressure in the post-pandemic era is the sudden need to adapt to remote learning and working models while ensuring business continuity. It was indeed an acid test to the higher education space to make data access, security, and exchange more seamless across its faculty, staff, and students with their pre-existing legacy systems.
Conversely, Workday's 2020 global survey, Closing the Acceleration Gap: Towards Sustainable Digital Transformation found that digital transformation plateaued during the pandemic, setting higher expectations. However, the pace of transformation eventually slowed down this year for 60% of higher education leaders. The acceleration gap is influenced by organizational culture, operational overkill from high digitization ambitions, and the need for a sustainable pace. However, closing the acceleration gap is critical for business survival.  This calls for a greater need for adaptability and confidence by higher education leaders who should also address these issues in tandem, such as workforce skill gaps, cybersecurity and compliance concerns, decision-making ability, and access to high-quality data.  Only 11% of the higher education leaders are confident in acquiring skills for implementing new technologies compared to 43% of the respondents who were surveyed.
Workday Cloud ERP's purely cloud-based, unified student administration, financials, spend management, HCM, planning, and budgeting under one platform has enabled its higher education customers to ride the digital wave with the desired level of agility. By bringing all facets of students, finance, HR, and payroll data, universities, and institutions have been able to create and iterate brand-new splash of online campuses. Workday is among the most cost-effective and easiest to deploy higher education ERP systems. Workday cloud's cost-effective and ease of use attributes stand out even more when compared to legacy higher education ERP systems. It enables institutions to start digital journeys immediately, delivering time to value and speed under budget.
Demand for Engaging Experience
According to the 2021 Gartner Innovation in Crisis Survey, student experience was cited as a top business priority. Findings by the Accenture survey of full-time college students in the nation also revealed that 96% of students attribute the digital experience as a cause of their educational satisfaction.  For pivoting student experience against the backdrop of hybrid and remote work culture, the need emerged for building an equitable experience and supporting students across geographies, learning modalities, degree types, etc.
Workday Cloud ERP is made for the nuances in higher education with features, flexibility, configurability, and student-centricity. It helps education institutions and universities incorporate features and options like academic appointments, payment calendars, activity-based payment options, open-ended terms, named professorships, committee and union management, grants management, effort certification, and endowment accounting.
Workday Cloud ERP suite's mobile-first design and intuitive interface also include internet constructs like hyperlinks, icons, predictive search results, and work tags that are easy to use. This promotes productivity and user adoption rates. With alerts, automated announcements, and active student engagement tools, users can gain an accurate picture of the university or course for a robust learning experience.
Recently, higher education institutions like Rhode Island School of Design, Santa Clara University, and more had successful go-live projects with Workday Student to deliver simple and engaging student experiences.
Future-readiness
Education institutions and colleges are not just concerned about technology implementation to stay relevant. They need to bring the human and tech factors to work cohesively for long-term value generation from their technology platform investments. Implementing technology transformation projects with a rigid mindset, people, and practices can be counterintuitive. To ease their future planning and forecasting tasks, higher education businesses typically use centralized data warehouses and third-party applications for sourcing and exchanging data across disparate security schemas. This is a time-consuming and expensive process that delays finding relevant insights. Workday Cloud ERP's embedded predictive analytics help collate data for analysis, observe trends, and make future forecasts to manage resource demands.
Workday also handles all IT-related functions like upgrades, security patches, data security, DR and backup, database, storage, network management, and much more. This would free IT teams of higher education institutions to focus on future computing initiatives and build resilience to future changes.
Higher education businesses need to upgrade to become adaptable organizations that can continuously recalibrate, break data silos, and mitigate future risks. Workday's automated updates and multi-tenant cloud delivery model with a central data core help speed innovation delivery, which higher education businesses can leverage. Workday's change management approach helps customers confidently lead the change with minimal disruption. Workday's integrated change management consultants, a toolkit to get started on change management efforts, and data-driven insights for guidance, help users be more future-forward.
Ivy Tech Community College was one of the recent successful go-live projects of Workday. This largest singly accredited statewide community college in the U.S. was looking for a consumer-grade finance and HR solution to scale operations and increase student enrollments. In addition, they wanted a finance and HR platform that met their present and future needs, which Workday could fulfill.
Embracing Data Culture
Enough empirical evidence shows that data intelligence is important for driving informed business decisions and outcomes. However, a 2022 IDC study found that almost two-thirds of survey participants said their companies face challenges around identifying and controlling data sources. Additionally, the research found organizations with a mature data culture have clearly outlined roles and responsibilities surrounding data and analytics.  They also have holistic data intelligence and rely on it to make informed decisions and measure and track results.
After the pandemic, easy and secure data accessibility became the crux for achieving digital transformation. Even before the pandemic, only 12% of companies said their data was fully accessible to those who needed it, confirms Workday's 2020 survey. Another 43% said their data was somewhat or fully siloed. Moreover, data accessibility varies across business functions.  For instance, 21% of IT leaders reported full data accessibility as opposed to 10% of HR leaders and 7% of finance leaders. When higher education businesses are too reliant on disparate, legacy IT systems that take too long to capture insights for addressing student and faculty needs, they are always at the risk of deriving stale information and missing innovation opportunities.
Workday Cloud ERP's intelligent data core can combine essential operational and human resources data into a single source. This single data model allows for detailed data extraction, accessibility, and analysis without adding too much strain on the IT resources to manage the data across the value chain. Role-based insights are helpful for leaders, managers, supervisors, and those in administrative positions to make informed decisions.
Additionally, locating all employee data into a central source elevates the visibility and transparency needed for hiring, upskilling, enrollments, skills-based assessments of students or candidates, and much more to address existing gaps for revenue and performance. Workday's commitment to data security and quality has been top-notch among higher education ERP systems. As of May 2023, Workday Cloud ERP processed nearly 2.2 million job requisition transactions, representing 22% of the monthly U.S. job postings. At the same time, Workday Cloud ERP employs strong data protection measures by adhering to global data security, privacy, and compliance protocols. Its state-of-the-art data centers are fully equipped with solid security measures. Customers of Workday Cloud have full authority and control of data on Workday applications that are built with robust security tools and configurations.
Cross-functional Collaboration
Most organizations set several breakthrough targets to improve profitability, performance efficiency, and cost savings. But very few of them manage to unite teams and cross-functional departments with separate workflows routinely. Lack of cross-functional collaboration creates blind spots in higher education businesses. Finance and IT alignment are important for finance leaders to make faster and more intelligent decisions. According to Workday's CXO indicator report, only 9% of the higher education leaders say their IT and finance are aligned. A significant 56% are of the opinion that they are somewhat or not at all confident if their finance technology has enough agility to support the organization during a crisis. And 52% of the IT leaders from the survey respondents believe that future IT talent must have financial literacy to drive future transformations.
Workday Cloud ERP's unified finance, HR, and student/faculty lifecycle management applications are cloud-based and built as a singular suite. It is designed for organizations of today that thrive on a highly collaborative structure. The cloud delivery model slashes ownership costs and expenses from additional hardware, software, middleware, database, or other installation and maintenance charges, and helps users access the application anytime, anywhere. Since it is a unified application, it reduces the need to integrate between applications and business processes that are cross-functional. But it ensures seamless user and administrative experience across the financial, HR, talent, payroll, analytics, and other departments.
By enabling a single, actional view of the business across financials, IT, and HR, users can securely access timely insights at their convenience, collaborate, and act using those insights within the Workday suite.
Recently, the Collaborative for Higher Education Shared Services (CHESS)in New Mexico moved to a shared, cloud-based Workday platform from aging administrative facilities to manage their finances, staff, payroll, and student services. They were able to leverage the Workday suite for better cost savings, and system upgrades, and achieve a partnership between six public colleges.
How We Can Help Universities With Workday and Their Higher Education ERP Systems Needs
As the year-end draws closer, we reflect on our goal of enabling businesses including those in the higher education space to 'seize the moments that truly matter' by optimizing their cloud ERP investments.  COX-LITTLE & COMPANY supports Workday advisory assistance, consultant services, and staffing support for universities and institutions to embark on Workday Cloud ERP projects with clear-cut goals and strategies. Our pre-vetted Workday talent's strategic perspectives and demonstrable experience of leveraging cloud-based ERP platform features and tools satisfy requirements in a bespoke manner.
At COX-LITTLE we believe every business needs top talent and a focused team to specifically engage in implementation, module selection, and choosing the right application from the Workday Cloud suite to strengthen your institution for educational excellence. Follow this space for more insights on Workday Cloud and other market-leading higher education ERP systems.
Contact Cox-Little's team to learn how we can help with your Workday project requirements.