NetSuite's robust integration capabilities evolved tremendously and are integral to building a collaborative, efficient, and secure user ecosystem. 2023 being a critical year for NetSuite, integration is one area worth revisiting for businesses to stay current and competitive.
At SuiteWorld 2023, NetSuite recently announced a list of product innovations that included generative AI features from the Oracle Cloud infrastructure across its ERP suite for higher efficiency. This year's conference theme, 'SuiteUp,' reflects the transformative power of the NetSuite products combined with AI. The unified cloud ERP solution provider has included several game-changing AI capabilities for a competitive leg up to enable the creation of contextual and personalized content across finance, supply chain, sales, and human resources. NetSuite has clearly established its ERP leadership by adding enterprise performance management (EPM) features and various finance tools. To thoroughly capitalize on the platform's core functionalities, ERP users must stay updated about relevant NetSuite integrations that are pivotal to breaking silos across workflows, processes, and systems to drive decision-making.
According to a recent Deloitte survey, 50% of Senior Procurement Executives find 'poor integration across applications' among the top three barriers to organizational agility. ERP staff augmentation is one straightforward approach to avoiding such risks as it helps supplement organizations' existing IT teams with pre-vetted NetSuite ERP consultants. Their ERP expertise helps assess core integration needs, define integration best practices, and cost-effectively implement them.
In this blog, we will get started on the NetSuite integration guide and integration benefits. We will also explore NetSuite's latest integration trends necessary for binding your enterprise software and systems to work closely with data.
A Guide to Integration with NetSuite and its Benefits
Like most ERP software platforms, NetSuite ERP is extended to business processes using industry integration standards to facilitate a smooth and secure exchange of data across on-prem applications or cloud-native ecosystems. Whenever new data is added to the ERP platform, it can be readily accessed by relevant systems and applications without requiring manual data transfer.  The common NetSuite integration methods are:
NetSuite's Pre-built Connectors: NetSuite integration requires SuiteTalk Web Services, the SOAP–based API, and SuiteScript, a proprietary scripting language that customizes integrations and automation within the platform. SuiteFlow is another visual workflow automation tool available in NetSuite that also aids non-tech users in redefining integration workflows and automating business processes. The SuiteTalk helps integrate with third-party systems and applications, and SuiteScript enables users to customize SuiteTalk to exchange and process data within the ERP platform.
Third-party Integration Platforms: Apart from the out-of-the-box integrations, many organizations choose third-party integration tools and platforms when their business systems and environs become exponentially complicated. Integration-platform-as-a-service (iPaaS) providers with pre-built connectors exclusively attend to users' growing NetSuite integration needs, freeing their IT teams from endless tasks for building custom APIs, mapping, and coding. These platforms' low-code components and drag-and-drop interface simplify connecting the NetSuite platform with operational areas like customer relationship management (CRM), human resources, project management, e-commerce, and more. The most popular NetSuite integration platforms for businesses of all sizes include Shopify, WooCommerce, Salesforce, HubSpot, Freshdesk, Magento, and Amazon.
Smaller businesses with more straightforward operational requirements select integration approaches like point-to-point integrations that require few APIs and manual efforts to code and implement the Enterprise Service Bus (ESB), which is mostly inexpensive.
NetSuite's SuiteApp Marketplace has a wide range of third-party integrations and connectors that trusted developer partners build. Businesses can choose from these pre-built integration solutions options to manage their integration needs and projects.
Regardless of the method chosen for NetSuite integration, NetSuite consultants help businesses be more realistic about their latest integration requirements and updates to create robust and secure integration practices aligned with their long-term vision.  Below are the eight benefits of NetSuite's latest integrations:
Real-time Updates: Organizations deal with colossal data volume, and manual data updates would be error-prone and time-consuming. NetSuite integration empowers users to capture real-time data, analyze it, and generate custom reports to build a data-driven approach to decision-making across any operational area, workflow, or department.
Increased Visibility: An intrinsic advantage of ERP platform integration is enabling end-to-end visibility into the complex technological architecture, business process, and functions. With a single source of truth available over the cloud-based ERP platform, NetSuite customers can make decisions on the go by relying on visibility in near real-time without the risk of errors and security threats.
Higher Regulatory Compliance: Businesses can bid farewell to managing mountains of data and reports to comply with the most recent regulatory processes and legal obligations. By leveraging NetSuite integration with HR, finance, and other tools with compliance processes, users can simplify and ensure organization compliance.
User-centric Design and Innovations: Users can include necessary customizations to make the platform more user-friendly with NetSuite's native integrations or with the help of third-party integration platforms. The overall objective is to drive user-driven innovation for better performance, productivity, and profitability without enduring ERP platform maintenance and management overkill.
Higher Profit Margins: Businesses can lower costs and expenses on various business software fragmented across the organization with integrations with NetSuite. They can leverage cloud ERP's functionality to capture and analyze data to increase revenue earnings and profit margins.
Remote Workforce Management: NetSuite integration with mobile devices and applications helps businesses manage their workforce on a remote or hybrid basis. The cloud ERP system's device-agnostic integrations help organizations keep up with the employees' expectations for remote and hybrid models, which are prerequisites across many industries.
Business Productivity: NetSuite integrations enable businesses to be more productive by enhancing efficiency based on sales volumes and estimates, historical sales records, inventory data, and growth trajectory. Also, NetSuite ERP's in-memory aggregation, financial planning analysis, and reporting functions improve the accuracy and reliability of financial documents like balance sheets and cash flow statements.
Increased Business Growth: NetSuite integration helps to grow and expand across numerous locations, units, departments, and sales channels. Integrations with sales platforms help seamlessly conduct upsell and cross-sell activities. NetSuite ERP's high adaptability and scalability enable it to respond to evolving integration requirements. It allows easy integration with most third-party software to help businesses build disruptive business models for long-term growth and success.
NetSuite's Latest Integrations in 2023
Over the past 25 years, NetSuite's unified cloud-based offerings have delighted over 37k+ customers and continue to help them harness the total value of the latest technological advancements like cloud computing and AI. Moreover, hyper-connectivity and remote collaboration have become the global demand for businesses that need integrated systems.
Despite having NetSuite at the forefront of core business processes, most users often need help with a lack of data standardization, data synchronization, and risk of data leakage or manual errors. To make sure that these businesses spend their bandwidth wisely in fixing areas with broken or poor integration, NetSuite assessments and NetSuite ERP consultants engage in implementing relevant measures. By preventing data discrepancies, inaccuracies, and inconsistencies for better data flow and interoperability, businesses can work towards building market differentiation and keep up with the global regulatory shifts around data privacy and security.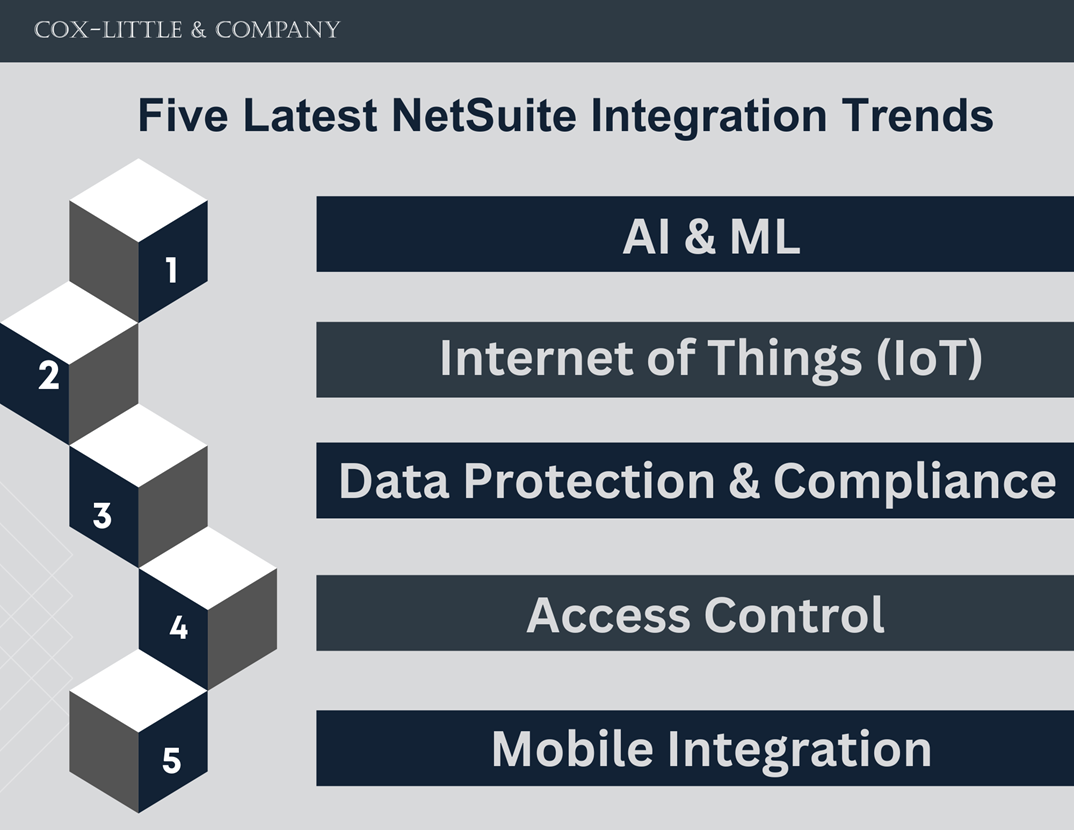 NetSuite integrations this year are essential to ensuring compliance. Further, they have evolved to include the five latest trends such as:
1, AI & ML: NetSuite integration is already leveraging emerging technologies like AI and ML for workflow and process automation to make users more decision-driven. This trend is likely to evolve with:
Predictive Analytics: AI-driven predictive analytics will be essential in various business spheres to accurately predict demand, consumer trends, sales, and market situations to help optimize inventory levels and supply chains.
Personalization: ML algorithms will boost personalization across the business sales funnel to improve CX with accurate data analyses and make custom recommendations and interactions.
Automated Tasks: AI-powered bots, assistants, and scripts will automate repetitive data entry tasks, helping employees to work on more value-driven areas and strategic tasks.
2, IoT (Internet of Things): IoT integration with NetSuite will benefit most organizations to gain real-time data insights from connected devices, wearables, sensors, and equipment used on the factory floor. This data can be used to keep track of assets and equipment along with their volumes and location details and monitor resources to manage maintenance and prevent downtime. IoT data also deliver insights to help dive into product usage, customer expectations, personas, and behavior to elevate CX.
3, Data Protection & Compliance: NetSuite integration in 2023 strongly focuses on data security and compliance with secure data sharing and storage practices using encryption protocols. There is a strong emphasis on staying updated with evolving data protection policies like GDPR and CCPA and making sure that NetSuite integrations adhere to these standards.
4, Access Control: To ward off any risk of unauthorized access, multi-factor authentication or MFA is integrated into the NetSuite account settings to manage account security. Users of the NetSuite platform must adopt various identification management approaches to safeguard their accounts from infiltrations and unauthorized access.
5, Mobile Integration: NetSuite integrations are capitalizing on the growing mobility to enable users to manage NetSuite accounts through web interfaces or apps on their smartphone devices. Push notifications that send real-time updates help users stay well-informed about their integration status and issues.
How NetSuite Consultants Help with NetSuite's Latest Integrations?
Businesses tend to be more myopic when it comes to understanding integration requirements and the overall integration process. At its core, NetSuite integration is a standard, one-time process. It is dynamic and directly influenced by a stream of external factors like the latest trends, new integration solutions, and a whimsical industry climate. NetSuite consultants mainly specialize in helping users with diverse business and technological needs leverage the powerful ERP system from the start to the end.
Organizations can leverage NetSuite ERP resources to define explicit integration best practices that consider all essential elements like regular system audits, maintenance, data storage, backup, and recovery practices.
Investing in NetSuite ERP staff augmentation can maximize the benefits of NetSuite integration with training on integrations, its impact on different processes, and the latest updates to the NetSuite platform. Organizations can help align integration with larger objectives by establishing clear integration strategies, deadlines, priorities, and budgets. They can define and track KPIs and metrics to benchmark integration performance to improve and scale it with growth demands and expansion plans.
In a nutshell, Cox-Little & Company's NetSuite ERP staffing resources help customers treat the NetSuite platform and integration as a strategic business asset. Our collaboration is vital to achieving integration excellence to leap confidently into new business areas or industry verticals with minimal disruption and expenditure.
At Cox-Little & Company, we help manufacturing businesses stay updated with the NetSuite platform and integration with the help of our NetSuite consultants to create robust, efficient, and secure strategies. The NetSuite ERP talent at Cox-Little has exposure to various integration concepts and aspects of ERP system implementation to cater to all your ERP requirements. Contact Cox-Little today to discuss possibilities for the future.