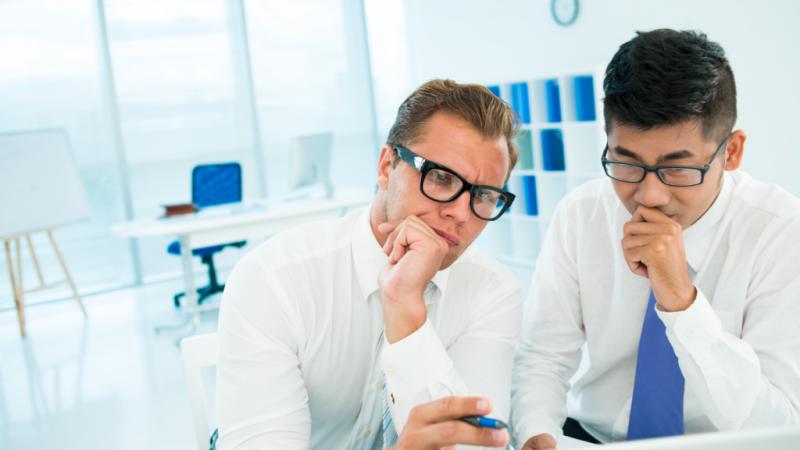 Enterprise resource planning (ERP) systems were once exclusive to the largest companies and corporations. But the rise of cloud technology, combined with an increasingly-competitive software development industry, has placed ERP software within the reach of virtually every business — startups and small business ventures, midsize enterprises, and yes, those large corporations. What's more, we have seen the emergence of new specialized ERP systems that are designed to suit specific industries and business sectors. 
With literally hundreds of different options available, the prospect of choosing an ERP system can be very intimidating. But there are a few key considerations that will make the selection process easier and more straightforward. 
Understanding the 3 Types of ERP Systems
There are three basic types of ERP systems from a platform standpoint: on-premise ERP systems, cloud-based ERP, and hybrid ERP systems. 
On-Premise ERP Systems – On-premise or on-prem ERP platforms are the most expensive type of ERP system to implement, but they also afford the organization with complete control and unsurpassed security. The "original" type of ERP, on-premise ERP systems require hardware, a data center to house that hardware, and IT professionals to manage everything. This carries a higher price tag when compared to the two other ERP systems, but the tradeoff is the ability to control all aspects of the system. This represents a good option for those who require extremely high levels of security too. Cost aside, another drawback to on-prem ERP surrounds lack of scalability. 
Cloud ERP Systems – Cloud ERP systems have opened the door to enterprise software for small and mid-size businesses — organizations that cannot afford on-prem ERP solutions. Technically a SaaS offering, these ERP platforms operate in the cloud making for a highly-scalable and far more cost-effective ERP when compared to on-premise solutions. The tradeoff: you have a bit less control over some aspects of the ERP infrastructure since you're working within the bounds of the cloud platform. Although for the average business, this does not translate into a "deal breaker" and there is a good chance for success within the cloud ERP's existing parameters.  
Hybrid ERP Systems – Hybrid ERP systems involve a combination of an on-premise data center and cloud-based ERP components. A large portion of hybrid ERP systems arise as a company gradually migrates from an on-prem arrangement to the cloud. Over time, the business may replace on-premises components with a cloud equivalent. This results in a platform that's split between on-prem and the cloud. Hybrid ERP systems are also ideal for cases where elevated security is required for a portion of the ERP platform; this ERP module can run on on-prem hardware, while the remainder of the system runs on the cloud. 
A firm understanding of the three ERP system types will help guide you toward the right platform for your business and its operations. Your budget, security needs, and operational requirements are key considerations as you choose one of the three configurations. 
Opting for an ERP Systems Demo
An ERP system implementation and deployment requires a major investment in terms of time, money, and effort. As such, this is a system that you will want to experience before you make a commitment to move forward with a specific ERP platform. Enter: the ERP demo. 
In addition to the three ERP configurations — on-prem, cloud, and hybrid ERP — there are many variables in terms of features, functionalities, administration capabilities, and customizability. Each ERP system delivers a unique user experience, of course. Plus there are integrations, dashboards, in-built analytics, and other toolsets. While feature lists, promotional videos, and sales pitches can provide you with a general feel for what an ERP platform delivers, there is no substitute for a demo.
An ERP demo can take a few different forms. In some cases, you have a sales representative on a screen share, walking you through as they interact with a full-featured ERP platform. This is a great option for scenarios where you need to see specific functionalities at work. It's also ideal if you're not super tech-friendly; the sales representative does all the legwork and you simply sit back and observe. 
Many developers now offer a demo version of cloud-based ERP software, which is a basic, stripped-back platform that is primarily intended to illustrate how the interface works. These demo ERP platforms usually feature minimal functionality since they're not really intended for use. But you can generally see where additional features exist — you just can't use them until you commit to that ERP system. Even so, these demo versions of ERP software can be very effective for giving you a feel for what it's like to use a specific system. The potential drawback to demo software is that you steer the ship as you explore the platform, so if you lack tech savvy then you may fail to appreciate the interface for all that it offers. 
The best ERP demo platforms include in-built "tours" or tutorial pop-ups that draw the user's attention to various features and functionalities. This can be useful for those who tend to face struggles as they get acquainted with new technology. 
Reading the Ratings and Reviews on ERP Platforms
You can glean lots of valuable insights from those who have traveled the path ahead of you. ERP software ratings and reviews can be extremely useful since many aspects of an ERP system are customized during the implementation and configuration process. This means that you cannot really appreciate an ERP platform's impact until it is fully implemented and deployed — and by this time, it's too late to reverse course. But user insights can help give you a better feel for considerations and factors that were not apparent in the demo or features list. 
The most trustworthy ratings and reviews are generally found on third-party sites, where the developer lacks direct control over what's posted. Ideally, you should place the greatest emphasis on ERP implementations involving similar business types. 
Forums can also offer lots of useful insights, with honest discussions that can shed light on issues or perspectives that will aid in the ERP selection process. 
Matching Different Types of ERP Systems Resource Requirements with Your Budget
Erp systems can be very costly and these costs vary depending o the type of platform you choose! Different types of ERP systems require hiring ERP professionals to not only get you through the implementation process but retain them full-time for maintenance. Some will require a large team of ERP experts while others may only require a few. When choosing from the different types of ERP systems make sure you have a clear understanding of the resources you have on hand and how much it would cost to acquire what you dont! This will be a very important part of your overall ERP implementation plan.
Hiring ERP consultants can also offer useful guidance as you navigate the ERP selection process. A top consultant will be intimately familiar with the different types of ERP systems and which can provide the greatest benefit to your organization. At Cox-Little, we have recruiters who have extensive experience finding talented professionals capable of handling ERP selection, integrations, implementation, and deployment. Our expert team is ready to guide your search for the perfect ERP system by taking care of your ERP hiring needs. Contact the ERP experts at Cox-Little today to discuss your hiring needs in an enterprise software platform.